Grass fed ground beef is always our most consistently-ordered product, and for good reason. Versatile, tasty, and reliable, this is the go-to meat choice in our house, and for many of our customers it is a kitchen staple.
Our ground beef is made from one steer at a time, so the composition changes a bit with the muscling and fat from each animal, but we typically target a lean to fat ratio between 80/20 and 85/15. This turns out to be a good all-purpose ground beef mixture.
Need some recipe inspiration? Here are some recipes we developed especially for our grass fed ground beef: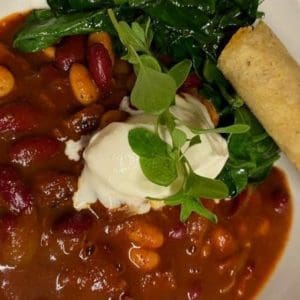 Print Recipe
Grass Fed Beef and Bean Chili Mole
If you've ever encountered an authentic mole (a famous Mexican dried chili-chocolate sauce thickened with nuts or seeds) made with love and care you may have been as struck as I was by the haunting alchemy of its flavors. I first tasted a handcrafted mole at Rick and Deann Bayless's wondrous Chicago restaurant Topolobampo. Not to build up too much expectation here because this recipe is a quick, down and dirty version of the great sauce — but in this context I think it is very rewarding. The local grass-fed beef anchors the whole dish and the nod to the mole via employing some of its key ingredients (unsweetened cocoa powder, ground pumpkin seeds, cinnamon) makes for a fun and delicious twist on a more traditional beef and bean chili. As with most long-cooked dishes, try to make it one day or even two days before you plan to serve it. The powerful flavors are best softened and melded by the extra time and proximity. Aren't we all?
Ingredients
1

T

olive oil

1

small

onion, diced

1

poblano chili, seeded and minced

2

cloves

garlic, minced

1

lb

grass fed and finished ground beef

salt and pepper

2

T

ground dried red chili powder

Try to find dried ancho chili powder, the fresher the better.

1

T

freshly ground cumin seed

1

tsp

ground coriander seed

1

tsp

ground cinnamon

2

T

unsweetened cocoa powder

I use Guittard's Cocoa Rouge Powder

2

T

tomato paste

2/3

cup

finely ground raw, unsalted pumpkin seeds

You can substitute raw unsalted almond butter

1

tsp

dried oregano

2

cups

crushed canned tomatoes

2

cups

beef broth or vegetable broth

1

bay leaf

2

cups

cooked white beans

1

cup

cooked red kidney beans
Notes
In a heavy bottomed dutch oven, heat the olive oil until it shimmers. Add the onion, poblano chili and garlic and stir frequently until all these have softened — about 4 minutes. Add the ground beef and season lightly with salt and fresh ground black pepper, stir until beef is browned. Add the chili powder, cumin, coriander seed, cinnamon and cocoa powder to the beef and stir well over medium heat to activate the spices.
Add the tomato paste, ground pumpkin seeds (or almond butter) and oregano to the beef mixture. Stir well to combine. Add the crushed tomatoes, broth and the bay leaf. Bring the chili mixture up to a strong simmer, cover and reduce the heat to a low simmer.
After 1 hour add the beans. If chili is getting too thick, add a little more broth or water.
Serve with warmed soft corn tortillas, sour cream or yogurt and a fresh herb like marjoram or cilantro and a little dollop of sautéed greens.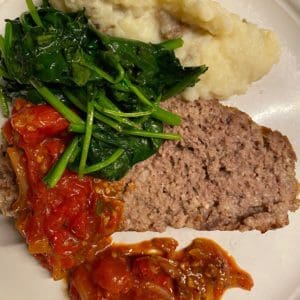 Print Recipe
Grass Fed Beef Meatloaf with a Blistered Cherry Tomato Relish
Ingredients
Meatloaf Ingredients
2

lbs

grass fed ground beef

1½

cups

dry bread crumbs

¾

cup

milk

2

eggs, whisked

1

cup

ricotta

½

cup

grated parmesan or pecorino

?

cup

yellow or white onion, finely minced

2

cloves

garlic, minced

2

Tbsp

Worcestershire sauce

2

tsp

sea salt

½

tsp

black pepper, freshly ground
Blistered Tomato Relish Ingredients
1

pint

cherry tomatoes

2

cloves

garlic, thinly sliced

1/4

cup

yellow or white onion, thinly sliced

2

Tbsp

olive oil

1

tsp

rosemary, minced

1

tsp

grated lemon zest

½

tsp

coriander seed, freshly ground

½

tsp

red pepper flakes

2

Tbsp

Balsamic vinegar

1

tsp

sea salt

½

tsp

black pepper, freshly ground
Instructions
For the Meatloaf
In a small bowl, combine the bread crumbs and milk and stir. Let the breadcrumbs hydrate in the milk for about 20 minutes.

In a larger bowl, combine the ground beef with the remaining ingredients including the hydrated bread crumbs. Shape into a loaf with your hands and place on a baking sheet or alternately use a loaf pan.

Bake until the internal temperature of the loaf is 150 degrees- it will rest up to 160. Cool slightly before slicing and serving.
For the Tomato Relish
Cut the cherry tomatoes in half and dress with the garlic, sliced onion, olive oil, rosemary, lemon zest and coriander seed.

Lay out skin side up on a parchment lined baking sheet. Roast until tomatoes begin to brown and blister- about 20 minutes.

Remove from the oven and transfer the blistered tomatoes to a bowl. Season with the balsamic vinegar, red pepper flakes, sea salt and black pepper.

Serve warm or at room temperature.
Our cattle are always grass fed and grass finished, and rotationally grazed on the pastures at Wrong Direction Farm. Our cattle never eat grain or grain byproducts and they are free of antibiotics and hormones. Just cows eating the plants that grow in our pastures; it's really that simple!
We offer delivery of our family farmed meats throughout the Northeast, shipped to your door in recyclable insulated containers. Our delivery area includes New York City, Long Island, New York state, New Jersey, Pennsylvania, Delaware, Connecticut, Rhode Island, Massachusetts, Vermont, New Hampshire, and Maine.