Who doesn't love a classic Philly cheesesteak topped with mushrooms, peppers, and onions? Not only do they taste great, but these thin sliced steaks will cook up quickly for a meal ready in minutes. Serve with fried onions, mushrooms, peppers, and a good soft cheese.
Here's a recipe we developed for our minute steaks: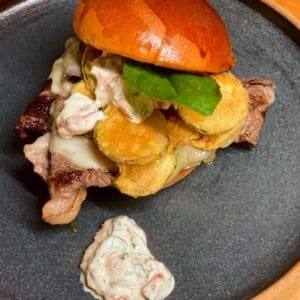 Print Recipe
Minute Steak Sandwich with Provolone, Roasted Pepper Mayo, and Buttermilk Fried Zucchini Chips
Despite being nearly paper thin, these minute steaks are packed with delicious beefy flavor and by searing them simply and quickly on high heat you can lock in most of the juices as well. The combination of peppers, basil, zucchini and provolone just seemed right for this warm summer sandwich. In fact, it's so good that you might consider doubling the batch!
Ingredients
1

lb

Minute steaks

(Fully thawed and blotted dry with paper towels.)

4

Rolls (brioche or kaiser)

(Buttered and griddled just before assembling the sandwiches.)

4-6

slices

Provolone cheese
For the Roasted Pepper Mayo
½

cup

Mayonnaise

1

Roasted red pepper

4-6

Fresh basil leaves

1

Small garlic clove, minced

2

Anchovy filets, minced

1

Tbsp

Freshly squeezed lemon juice

Salt and pepper to taste
For the Zucchini Chips
1

Large zucchini, sliced into 1/2 inch thick rounds

1½

cups

Buttermilk

2

cups

All Purpose flour

(Lightly seasoned with salt and pepper and smoked paprika.)

Stable oil/fat for frying: ghee, lard, olive oil, or tallow

Sea salt to taste
Instructions
Start by combining all the ingredients for the roasted pepper mayo and refrigerate for about 30 minutes to let the flavors develop.
For the Zucchini Chips
Heat 3-4 cups of stable oil in a heavy pot like a dutch oven to 350 degrees.

While fat is heating, slice the zucchini and soak in the buttermilk, making sure each slice is well coated.

When oil is at 350 degrees, dredge the soaked zucchini slices in the seasoned flour, making sure each slice is coated. Shake off excess flour and gently slide into the hot fat. Cook 2-4 minutes until slices are golden brown.

Drain on paper towels and lightly season with fine sea salt.

Repeat as needed for all the slices.
For the Minute Steaks
Heat a large steel or cast-iron skillet over medium-high heat. Lightly season the minute steak with salt and pepper.

Grease the skillet with a small amount of fat and sear the steaks quickly in batches until all the steak has been cooked- this takes even less than a minute per steak! Set steaks aside on a platter to collect any juices.

When the steak is all cooked, butter the cut faces of the rolls and sear in the same skillet as the steak until golden brown.
To Assemble
For each sandwich, spread the top and bottom of the roll with 1-2 Tablespoons of the roasted pepper mayo. Place ¼ of the beef on the bottom of each sandwich, top with provolone slices, a nice small handful of the zucchini chips and a little more mayo if wanted.

Enjoy!
We cut our grass fed shaved steaks from the round, so they are lean and cook easily without generating excessive grease in the pan.
Our cattle are always grass fed and grass finished, and rotationally grazed on the pastures at Wrong Direction Farm. Our cattle never eat grain or grain byproducts and they are free of antibiotics and hormones. Just cows eating the plants that grow in our pastures; it's really that simple!
We offer delivery of our family farmed meats throughout the Northeast, shipped to your door in recyclable insulated containers. Our delivery area includes New York City, Long Island, New York state, New Jersey, Pennsylvania, Delaware, Connecticut, Rhode Island, Massachusetts, Vermont, New Hampshire, and Maine.