One boneless turkey breast from our pasture raised turkeys. You'll find these breasts are perfect for roasting. Each breast is tied with butcher twine netting for convenient roasting.
Here's a recipe we developed for our turkey breasts: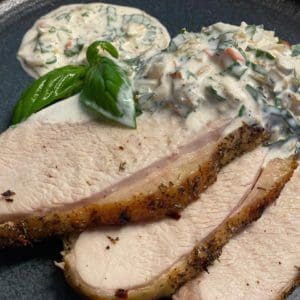 Print Recipe
Kimchi Brined Turkey Breast with Kimchi and Herb Sauce
Ingredients
1

boneless turkey breast 3 to 4 lbs, netting removed and un-rolled
For the Brine
1

cup

kimchi juice drained from a jar of kimchi

1

cup

buttermilk

3

cloves

garlic, smashed

2

Tbsp

kosher salt

1

tsp

freshly ground black pepper

1

tsp

ground coriander seed

1

Tbsp

fresh thyme, minced

1

Tbsp

fresh rosemary
For Roasting the Turkey Breast
For the Kimchi and Herb Sauce
1

cup

plain sheep's milk or cow's milk yogurt

½

cup

mayonnaise

1

cup

drained kimchi, minced into small pieces

¼

cup

cilantro, minced

¼

cup

fresh basil, minced

salt and fresh ground pepper to taste
Instructions
Combine all brine ingredients and stir well to combine. Liberally coat the turkey breast in the brine and then transfer all to a 1 gallon sealable freezer bag. Refrigerate the turkey overnight or at least 8 hours. Turn the bag over a few times to evenly distribute the brine.
Before Cooking the Breast:
Preheat oven to 450 degrees. Remove most of the brine and pat the turkey breast dry with paper towels.

Brush the turkey with enough melted butter to lightly coat all sides. Place the turkey in a roasting pan and cook for 10 minutes at 450 degrees.

Reduce the oven temperature to 300 degrees and continue cooking until breast has reached internal temperature of 160 degrees.

Baste occasionally with the remaining melted butter.

Once turkey breast is fully cooked, let rest for at least 20 minutes before slicing and serving.
While Turkey Breast is Roasting
Prepare the kimchi and herb sauce. Combine all ingredients in a bowl and stir to combine. Taste for seasoning and adjust as needed.
Notes
Like this recipe? If you enjoyed this one, you can branch out by experimenting. Try brining the turkey breast in a different kind of lacto-fermented vegetable. Sauerkraut, dill pickles, curtido, and giardiniera all come to mind as tasty culinary foundations for a brine. Enjoy!
We feed our poultry Certified Organic grains. And of course our birds never receive antibiotics and are never exposed to pesticides, herbicides, or GMO crops. Our turkeys are raised by our family with care on green grass pastures, where they can forage in the fields and nap in the shade.
We offer delivery of our family farmed meats throughout the Northeast, shipped to your door in recyclable insulated containers. Our delivery area includes New York City, Long Island, New York state, New Jersey, Pennsylvania, Delaware, Connecticut, Rhode Island, Massachusetts, Vermont, New Hampshire, and Maine.