Four chicken drumsticks, skin on and bone-in.
A favorite on our farm because these drumsticks make such easy meals, cooked up with crispy skin and tasty dark meat. After we're done, we save all the leg bones in a bag in the freezer until we have enough to make chicken bone broth.
Need some recipe inspiration? Here's a recipe we developed especially for our pasture raised chicken drumsticks: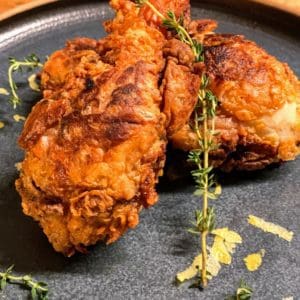 Print Recipe
Buttermilk Fried Chicken Drumsticks with Lemon and Thyme
Ingredients
Drumstick Marinade
8

pasture raised chicken drumsticks

2

cups

buttermilk

2

tsp

garlic powder

2

tsp

smoked paprika

1

Tbsp

lemon zest (plus a little extra for garnishing)

1

Tbsp

minced thyme (plus a little extra for garnishing)

1

tsp

sea salt or flake salt

½

tsp

freshly ground black pepper
Dredging Flour
3

cups

all purpose flour

1

cup

whole grain flour

2

Tbsp

sea salt

1

tsp

freshly ground black pepper

2

tsp

smoked paprika

1

quart

rendered fat for frying
Instructions
Combine all the marinade ingredients in a deep bowl that can submerge the chicken drumsticks. Marinate for 3-4 hours in the fridge, turning once or twice to ensure the chicken marinates evenly.

When ready to fry the chicken, bring the drumsticks out to warm up a little- about 30 minutes before cooking. Choose a thick-bottomed skillet or dutch oven for frying. Heat the rendered fat to 350 degrees using a thermometer to maintain the temperature.

Dip each drumstick in the seasoned flour and coat fully. Once all drumsticks are dredged, gently lower into the hot fat and cook for 10-15 minutes or until the internal temperature has reached 160 degrees.

Drain the drumsticks on paper towels and season with thyme, lemon zest and salt and enjoy!
Our chickens are raised by our family with care on green grass pastures, where they can forage in the fields and nap in the shade. They are pasture raised and 100% Certified Organic.
We offer delivery of our family farmed meats throughout the Northeast, shipped to your door in recyclable insulated containers. Our delivery area includes New York City, Long Island, New York state, New Jersey, Pennsylvania, Delaware, Connecticut, Rhode Island, Massachusetts, Vermont, New Hampshire, and Maine.
All our chickens are Certified Organic by NOFA-NY.