Mixed bag of chicken wings cut up into pieces known as "drumettes" and "flats". Each package typically contains six each of the drumettes and the flats.
Baked, fried, or grilled, chicken wings are sure to please. Bring your favorite hot sauce!
Here's a recipe we developed for our chicken wings: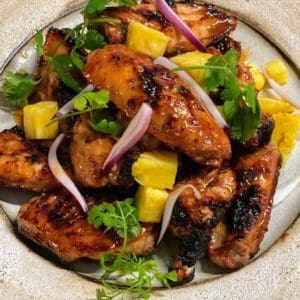 Print Recipe
Pineapple BBQ Pastured Chicken Wings
Ingredients
For the Pineapple BBQ Sauce
1½

cups

pineapple juice

¼

cup

maple syrup or honey

1

Tbsp

ginger, minced

1

tsp

garlic, minced

½

cup

soy sauce or coconut aminos

1

Tbsp

toasted sesame oil

1

Tbsp

chili sauce (sambal oelek)
For Fresh Garnish
1

cup

fresh pineapple, diced

½

cup

cilantro leaves

½

red onion, cut into slivers
For the Wings
2

lbs

pasture raised chicken wings

salt and pepper
Instructions
Mix all sauce ingredients. Some will be used for basting, some can be set aside for serving. Unused sauce will store well under refrigeration for a month.

Pat wings dry and season with salt and pepper.
Grilling Instructions
Light grill and allow time for the grates to come up to temperature. For most gas grills, set the burners to somewhere halfway between medium and high.

Place seasoned wings on hottest part of your grill until the skin starts to turn a golden brown.

Begin basting and turning every 3 minutes until chicken is cooked through at achieves an internal temperature of 160 degrees.
Oven Roasting Instructions
Preheat oven to 400 degrees.

Line a baking sheet with foil and place a wire rack on top for the wings.

Baste the seasoned chicken wings with the sauce and place in preheated oven.

Turn the chicken wings over and re-baste every 15 minutes for a total of 45 minutes until chicken is cooked through and achieves an internal temperature of 160 degrees.
Serving Suggestions
Serve wings with additional sauce on the side, and garnish generously with fresh pineapple, cilantro leaves, and onion slices.
Our Certified Organic chickens live outdoors on green grass as we move them across our lush pastures. These are birds that actually use their bodies to run and chase bugs. Their muscles are toned and the taste and texture of the meat is superior to any of the *allegedly* free range poultry you'll find in stores. Even their bones have higher density, so save the bones to cook a nutrition-packed bone broth while getting an extra "free meal" out of your order.
We feed our poultry locally-grown Certified Organic grains. And of course our birds never receive antibiotics and are never exposed to pesticides, herbicides, or GMO crops.
We offer delivery of our family farmed meats throughout the Northeast, shipped to your door in recyclable insulated containers. Our delivery area includes New York City, Long Island, New York state, New Jersey, Pennsylvania, Delaware, Connecticut, Rhode Island, Massachusetts, Vermont, New Hampshire, and Maine.
All our chickens are Certified Organic by NOFA-NY.