Ground turkey from our pasture raised turkeys.
Great for all kinds of dishes when you want ground meat leaner than beef or pork.
Ground turkey is our top seller in the turkey category, and it is no wonder. Our turkeys live on pasture, so their muscle fibers are more developed than conventional barn-raised turkeys. This results in an immensely more flavorful meat.
Here's a recipe we developed for our ground turkey: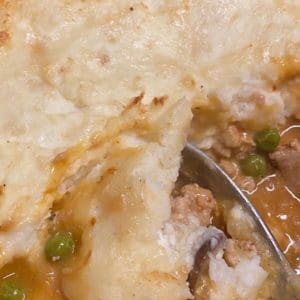 Print Recipe
Turkey Cottage Pie with Mushrooms, Parsnips and a Celery Root-Goat Cheese Crust
Ingredients
For the Filling
1

Tbsp

rendered fat or butter

1

small onion, diced

2

parsnips, scrubbed and diced

2

cloves garlic, minced

2

tsp

thyme, minced

1

tsp

rosemary, minced

2

Tbsp

tomato paste

1

tsp

smoked paprika

2

tsp

salt

½

tsp

black pepper

½

tsp

coriander seed, crushed

?

tsp

nutmeg

¾

cup

dry white wine

1

lb

ground turkey

3

Tbsp

all-purpose flour

1

cup

chicken stock

1

cup

peas
For the Topping
2

large russet potatoes

1

small celery root

2

Tbsp

butter

½

cup

milk

4

oz

goat cheese
Instructions
Preheat oven to 425 degrees.

Heat a large skillet and add the butter over medium heat.

Add the onions, garlic, parsnips and mushrooms and sauté until onions are soft- about 4 minutes.

Add the turkey and brown while breaking up with a wooden spoon.

Add the tomato paste, paprika, coriander, nutmeg and salt and pepper and stir well to combine.

Add the white wine and reduce a couple of minutes.

Add the flour and stir well to coat all the ingredients.

Add the stock and bring to a simmer. Cook for about 10 minutes over low heat.

Add the peas and then pour all contents into a pie dish. Add the topping, and place in the oven to finish.

Bake for 20-25 minutes. Remove from oven when the topping is browned.
For the Topping
While the filling is simmering, prepare the topping. Bring a pot of salted water to a boil.

Peel and cut into chunks the potato and celery root. Cook until very soft in the boiling water. Drain well.

Add the butter and milk and mash until smooth.

Fold in the goat cheese and season with salt and pepper.
We feed our poultry Certified Organic grains. And of course our birds never receive antibiotics and are never exposed to pesticides, herbicides, or GMO crops. Our turkeys are raised by our family with care on green grass pastures, where they can forage in the fields and nap in the shade.
We offer delivery of our family farmed meats throughout the Northeast, shipped to your door in recyclable insulated containers. Our delivery area includes New York City, Long Island, New York state, New Jersey, Pennsylvania, Delaware, Connecticut, Rhode Island, Massachusetts, Vermont, New Hampshire, and Maine.