Spatchcocking (or butterflying) a chicken makes it easier and quicker to roast a whole chicken without fear of overcooking some parts while undercooking others. We've done all the knife work for you, so the chicken is ready to roast or grill.
Here's a recipe we developed for our spatchcock chicken: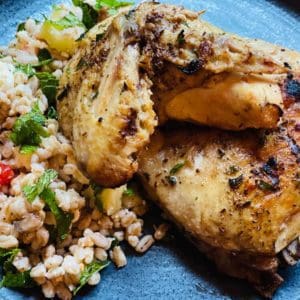 Print Recipe
Grilled Spatchcocked Chicken with Farro Salad
A great recipe for grilling season using our Certified Organic, pasture raised chickens. Also includes a recipe for an accompanying Farro Salad.
Ingredients
1

whole spatchcocked chicken, 4-5 lbs

salt and pepper to taste
For the Marinade
1

Tbsp

chopped fresh oregano

1

Tbsp

chopped fresh thyme

½

tsp

ground cumin

½

tsp

crushed red pepper

2

cloves of garlic, minced

½

tsp

ground coriander

¼

tsp

ground black pepper

2

tsp

salt

1

Tbsp

lemon zest, finely grated

¼

cup

extra virgin olive oil
For the Salad
1

cup

farro

1

bay leaf

½

cup

cremini mushrooms, thinly sliced

1

Tbsp

extra virgin olive oil

1

cup

cherry tomatoes, chopped

1

cup

cucumbers, diced

¼

cup

scallions, thinly sliced

¼

cup

mint leaves, thinly sliced
For the Salad Dressing
¼

cup

extra virgin olive oil

juice and zest of one lemon

1

tsp

honey

1

tsp

grainy Dijon mustard

salt and pepper to taste
Instructions
Chicken Preparation
In a bowl, combine the marinade ingredients. Pour over the chicken, rotating until evenly coated and distributed. Seal everything in a large container or gallon-sized resealable bag and return the fridge to marinate for at least two hours, or overnight. If the chicken is too large to fit in one container or bag, you can carve it in half.
For the Farro Salad
Fill a medium saucepan half full with water and salt to taste. Bring this to a boil along with the bay leaves.

Once boiling, add one cup of rinsed farro, reduce the heat, and simmer until tender. The cook time will vary from 15-40 minutes depending on the type of farro you have, so follow the directions on the package.

While the farro is cooking, sauté the diced cremini mushrooms, salted and peppered to taste, in one tablespoon of olive oil on medium high heat until they are soft and lightly browned. Set aside.

Once the farro is tender, drain it, remove the bay leaves, and transfer to a large bowl.

Whisk together the dressing ingredients.

To the cooled, cooked farro, add the sautéed mushrooms, cherry tomatoes, cucumbers, mint leaves, scallions, and the dressing. Toss to combine.
Grilling Instructions
Light the grill and allow time for the grates to come to temperature. For most gas grills, set the burners somewhere between medium and high.

Before grilling, allow some of the excess marinade to drip from the chicken to prevent flare ups, but no need to fully blot dry. Season all over with more salt and pepper.

Start grilling the chicken skin side down over direct heat on the hottest part of the grill until the skin starts to look crisp and golden brown, then flip the chicken and continue grilling over more indirect heat.

Continue grilling for 45 minutes to one hour until the chicken is golden brown all over, the skin looks crisp and lightly charred, any juices are running clear, and a thermometer inserted in the thickest part of the meat reads 165 degrees Fahrenheit. You'll want to flip it occasionally.

Let rest for 10 minutes before carving.
We feed our poultry Certified Organic grains. And of course our birds never receive antibiotics and are never exposed to pesticides, herbicides, or GMO crops. Our chickens are raised by our family with care on green grass pastures, where they can forage in the fields and nap in the shade.
We offer delivery of our family farmed meats throughout the Northeast, shipped to your door in recyclable insulated containers. Our delivery area includes New York City, Long Island, New York state, New Jersey, Pennsylvania, Delaware, Connecticut, Rhode Island, Massachusetts, Vermont, New Hampshire, and Maine.