I saw the gauges going crazy, but I was on the road in a whiteout of blowing snow before sunrise at zero degrees, so I wasn't about to pull over onto the partially-cleared shoulder to investigate.  Instead I kept driving on as the oil pressure gauge flipped between normal and zero.  I have had other Fords with faulty oil sensors, so I was hoping for the same here.  But rattle, rattle, boom, boom, and then the van was losing speed just as I was approaching a Thruway siding.  The engine bearings were being worn to bits.  Then the engine quit in a surprisingly bright flash that lit the road around me and things became quiet.  I was able to coast into the rest area, running out of momentum short of the parking lot but in a safe spot.
Rachel and the kids came to pick me up, and we found the nearest rental place that had a truck ready.  Then we zoomed back to the rest area, backed the vans up, and transferred what we could.  I didn't have the right tools or the time to get all our freezers moved into the rental truck, but the weather was cold enough that we didn't have to worry about the meat thawing.  Between the towing and rental, we spent $2000 extra on this delivery (not including the normal fuel and tolls).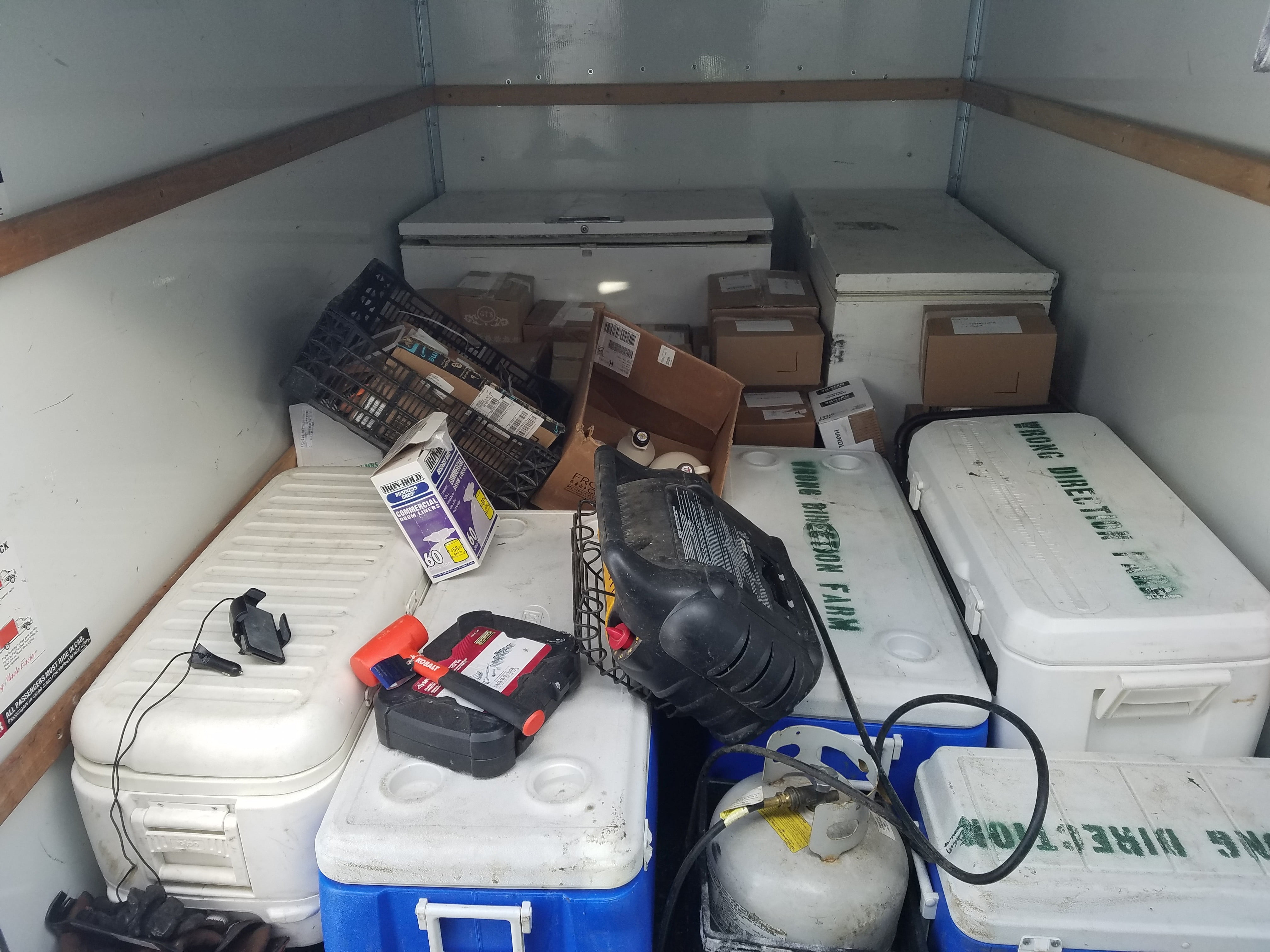 Apart from the ruined truck, this weekend battered our family with a sequence of disasters, petty annoyances, and griefs:  postponed deliveries due to snow, frozen pipes in our house, several freeze-up problems for the cattle's water and pigs' milk, sickness, and the not-unexpected death of someone we all loved.
We have many people to thank for helping us pull through.  My parents and sister took over some Saturday deliveries at the last minute.  Customers in Montclair, Red Bank, and Westfield were courteous and accommodating as I changed schedules on them.  Several people volunteered to help with checking orders and following up with other customers.  Folks in Queens didn't complain about the hastily prepared directions for the delivery location change after our normal parking lot was closed.  When things go badly, it is great to have good people on our side.  Thanks to all of you.