Clearly our customers have a breast obsession.  We are selling far more chicken breasts than any other cut.  Having a product that sells is great, but there's a "however".
Here, however, is the dilemma:  breasts are selling too quickly, while drumsticks and the soup parts (necks and backs) are piling up.  We aren't part of the commodity market, so we can't dump certain cuts on third world countries.  I don't want to be scoldy here, but it is true that sustainable eating involves the responsibility to eat all the edible parts of a plant or animal.  We base our prices on the yield of each cut and the cost of producing it. We have to cover our bills.  Organic chicken feed is expensive, and so is local butchering.
There are three ways we could resolve this problem.
First would be to breed chickens that have proportions corresponding to purchasing patterns.  Breasts 50 percent bigger, thighs 30 percent bigger, drumsticks 50 percent smaller, wings about the same, and just a tiny amount of skeleton to hold the thing together.  This option is the least desirable on a few levels…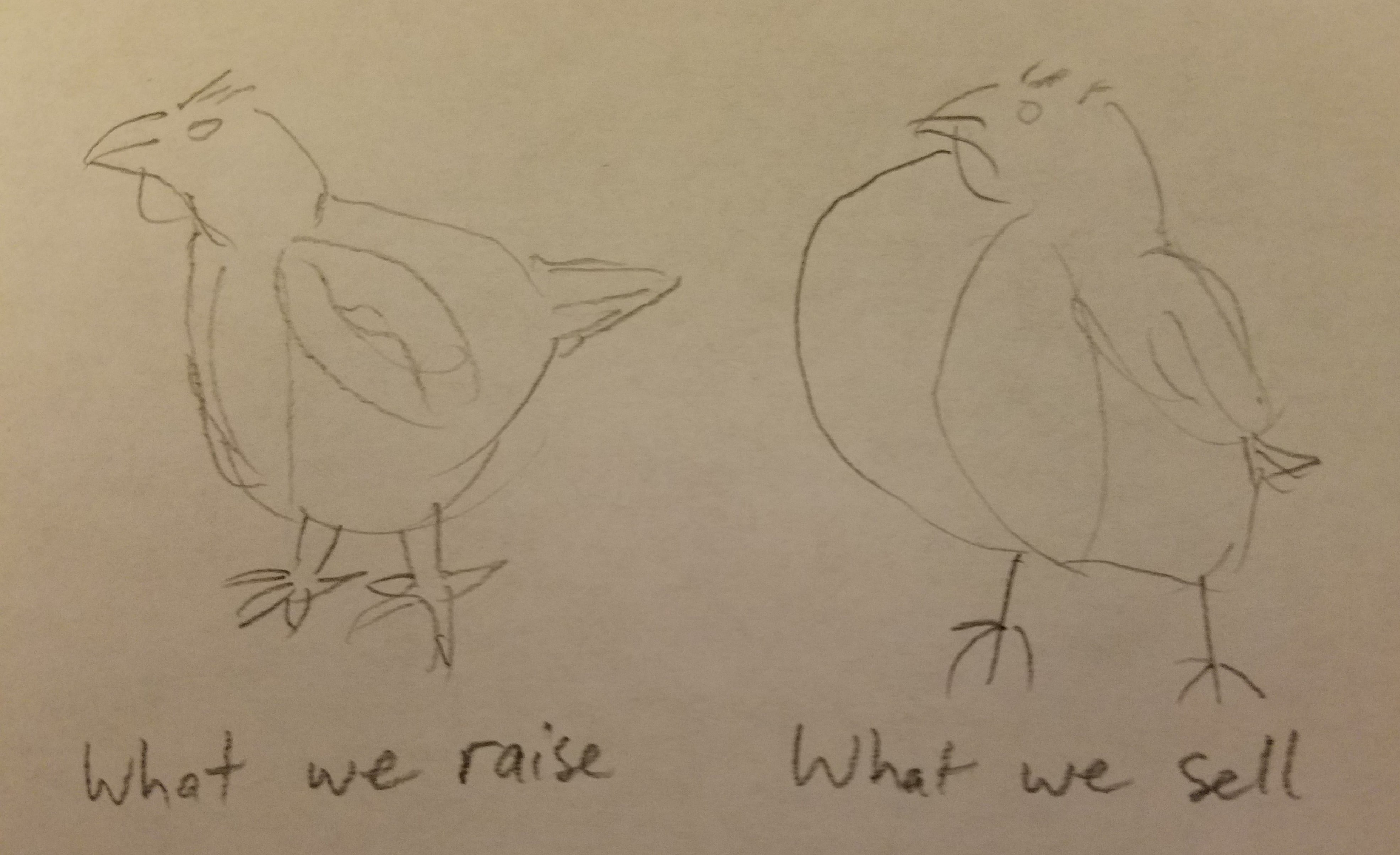 The second option is for us to change our prices.  You may have noticed that last month I rejiggered breasts, drumsticks, and thighs a few cents to try to reach some equilibrium, but breast sales actually increased without changing leg sales.  So after running everything through a far-too-complicated Excel sheet to rebalance sales (once an engineer, always an engineer), I arrived at the following price revisions.  This is a radical change, but it would scale price to match demand.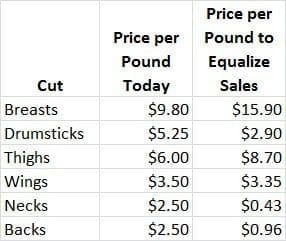 The third option would be for everyone to change their buying habits.  For every four packages of breasts, we'd sell two packages each of thighs and drumsticks, one package of wings, and one of backs or necks.  Perhaps some normalization will occur with backs and necks once cold weather arrives and people shift towards more soups, but I'm not sure we can continue to sell chicken cuts if we don't get more drumsticks on more plates.  There are only so many drumsticks that our family can eat.
So, my chicken-eating customers, what do you think?  I don't want to saddle anyone with drumstick guilt.  We all have enough situations in our lives where people are telling us "you should feel guilty because you aren't doing this!"  If you like big breasts, that's great.  Not everyone needs to eat the legs, and certainly not every time.  But I am interested in hearing how you weigh price versus preference.  Somehow we've achieved a better balance in our pork and beef sales, so we need to figure out this chicken thing.