Update Jan 2016:  We moved the trough and made some plumbing improvements in this follow-up post.
Last week we set up a new water trough for the cattle in the area where they'll be bale grazing this winter.  We started building drinking troughs out of heavy equipment tires two years ago.  Tire tanks are heavy enough to stand up to charging cattle and rooting hogs.  In winter they do freeze, but with the combination of the heat absorption of the black rubber and the insulation provided by their thick sides, they resist freezing better than galvanized stock tanks.  And when we need to chop ice out of a tire tank with an axe, we don't need to worry about cracking or denting the tank.  In fact, it often helps to wallop the side of the tank with the sledge hammer to loosen up the ice.
This installation is temporary.  Temporary, when used in the context of farming, usually just means a permanent installation that you always would like to change but don't have the money or time to change.  But the goal is to eventually set up this tank connected to frost-free buried water line so that it can be filled automatically.  We don't have a frost free buried water line for the back fields, so this winter we'll end up pumping water from a small pond using a gasoline powered pump.
We got this tire for free from a local gravel quarry.  They would have had to pay to dispose of it, so they were happy to get rid of it.  The tire is just under six feet in diameter and two feet wide.  The manufacturer's website says that this model weighs around 800 pounds, depending on the tread pattern.
The first task is to cut out the sidewall.  For other tanks, we've removed the entire sidewall so that several animals can drink simultaneously.  But in this case we wanted to leave most of the top covered to reduce the winter heat loss.  We're not sure how much effect the top will have on freezing, so this is an experiment.  Cutting through the tire is a chore.  Loader tires are full of steel wire in both the belting and the radial plies.  After drilling pilot holes, we cut through the sidewall with a reciprocating saw.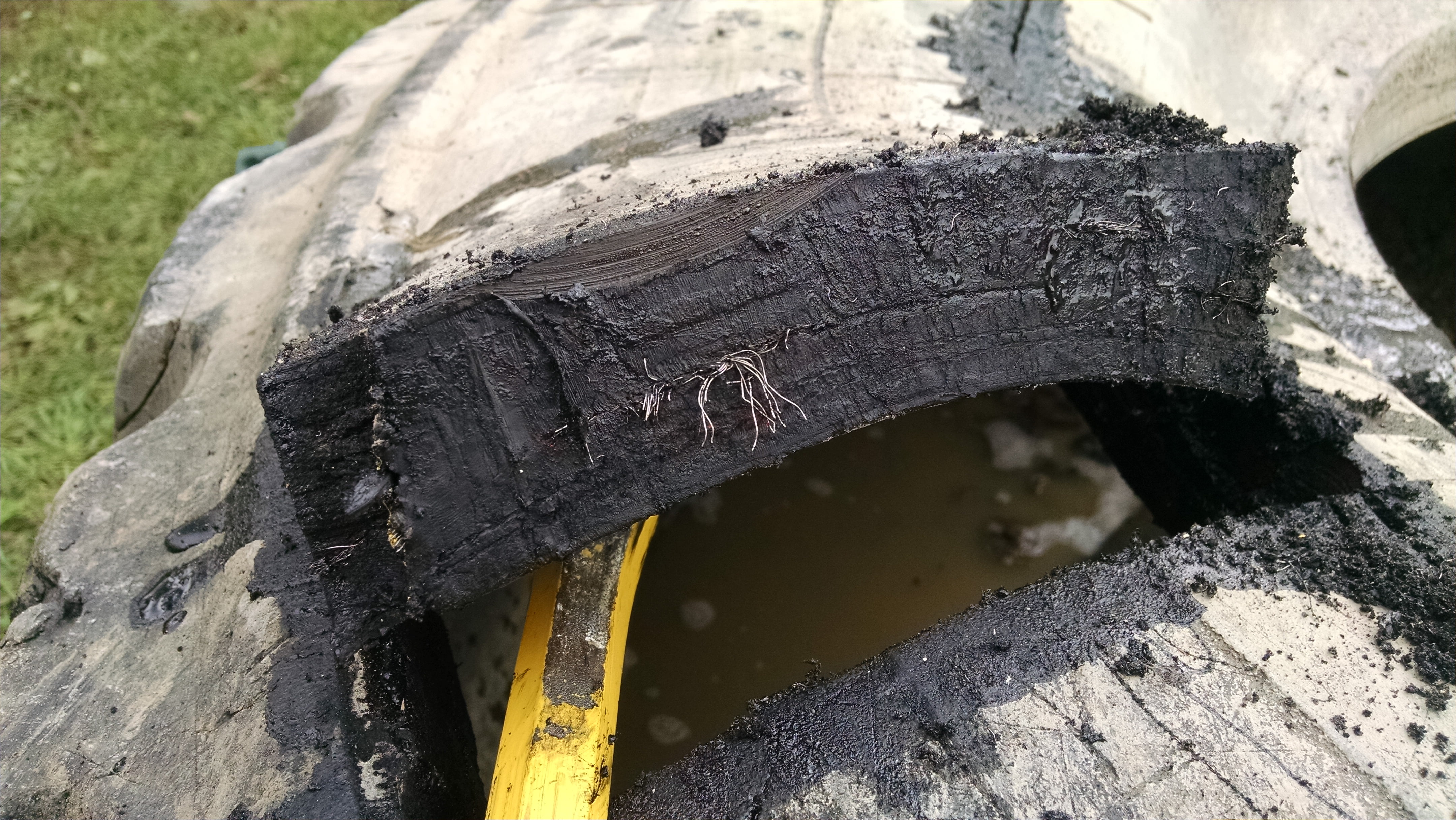 Next the tire is placed on a gravel base and leveled.  We had a small scrap of geotextile fabric in the garage, just enough to cover an 8'x8′ area under the tire.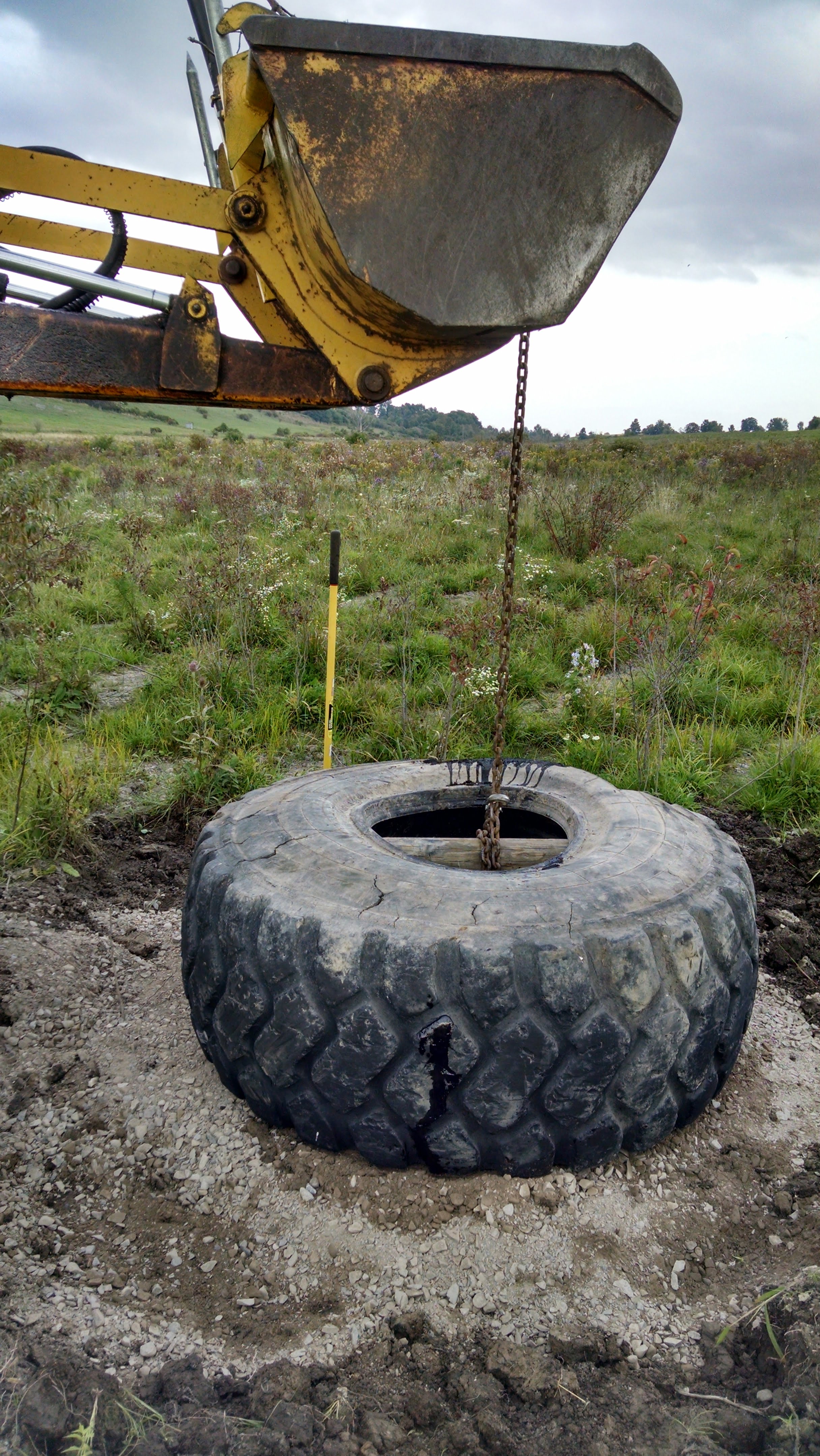 It helps to have a competent equipment operator on hand so that one person can raise and lower the tire while the other person makes fine adjustments and checks for level.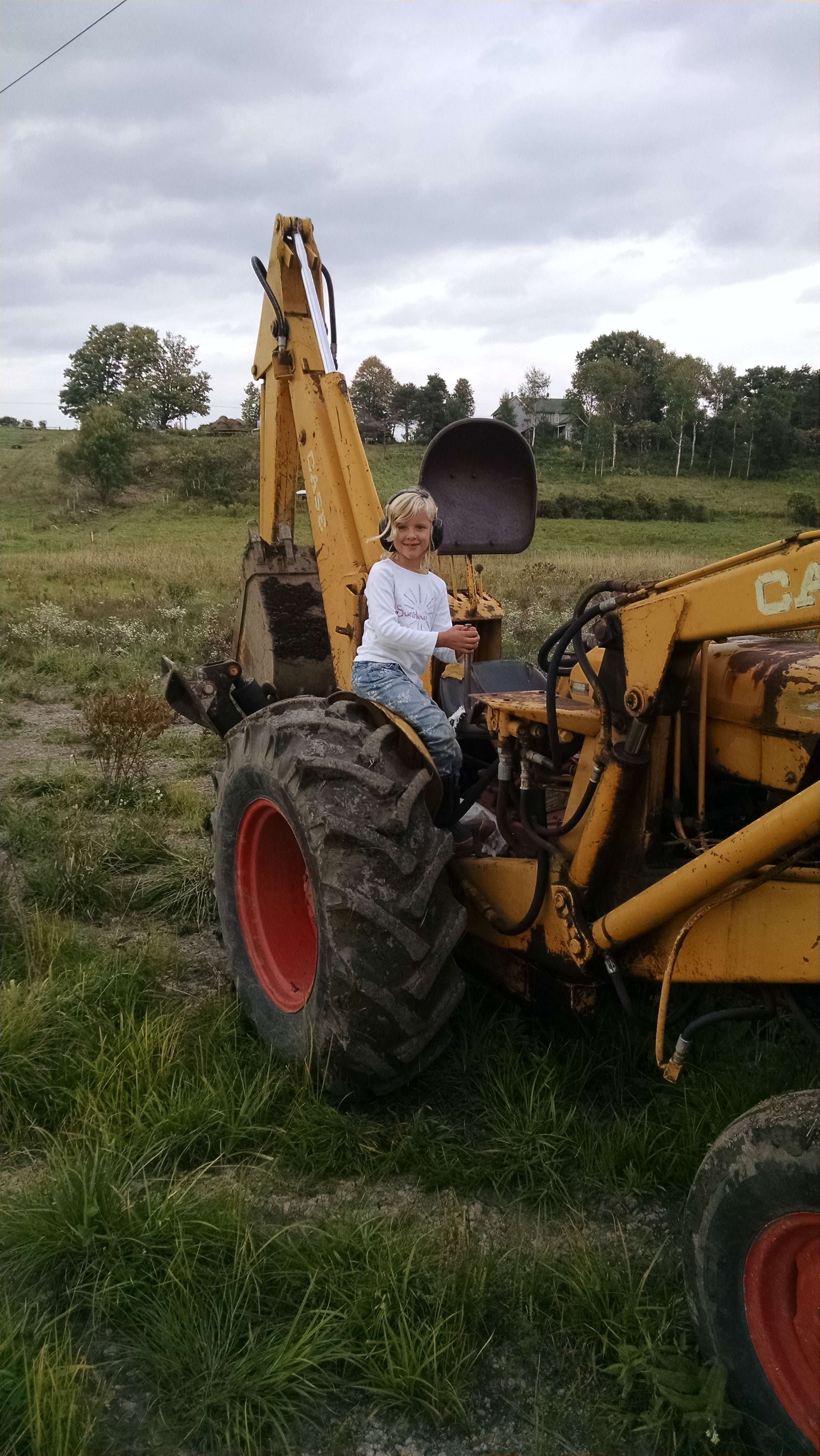 Then the bottom of the tank is prepped.  We installed a piece of bent rebar to provide a lifting hook so we can move the tire if we ever need to.  We also installed a four inch PVC pipe as a sleeve for a future water supply line and overflow tube.  For now, we'll just cap the pipe with a rubber fitting.  We needed four sacks of concrete to fill the tire up to the bottom bead.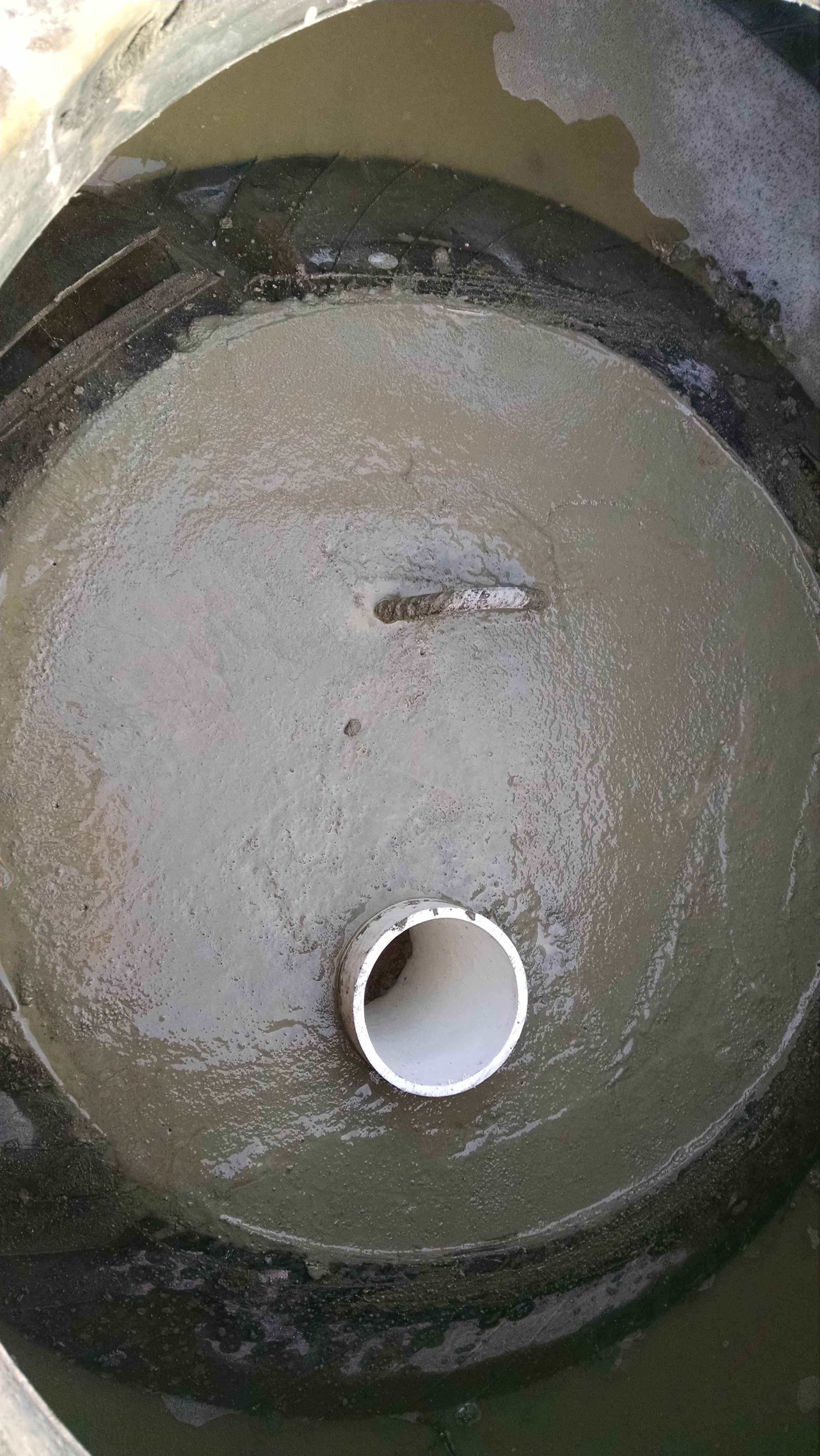 To finish the tank, we filled in the sides with a few inches of crusher run gravel to provide a firmer base.  If this were a permanent installation, a concrete apron all around the tank would be a good addition.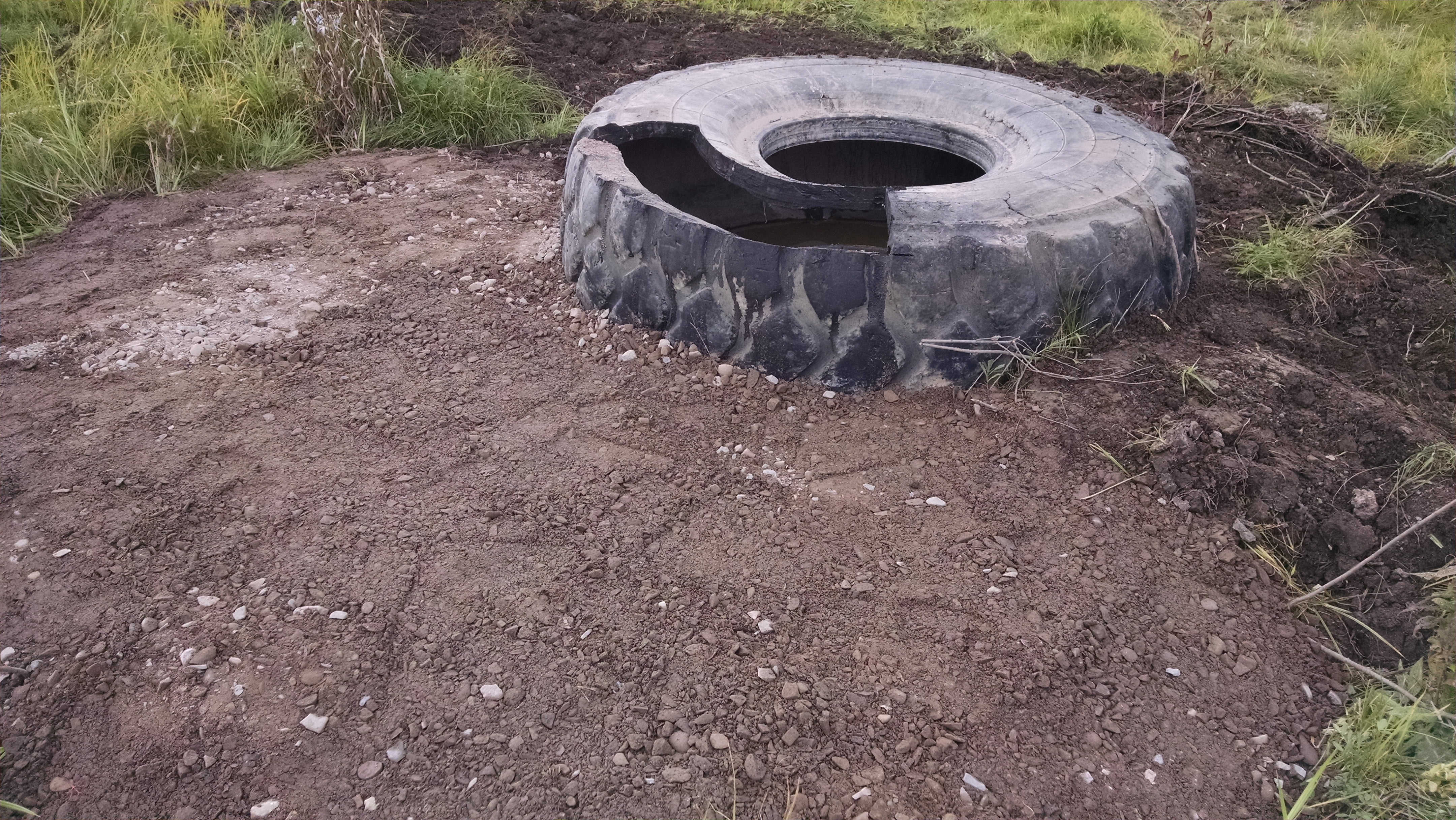 The total cash cost for the project was $53 ($16 for four sacks of concrete, $20 for two tons of gravel, and $17 for a package of reciprocating saw blades).