We're always appreciative when our friend Chef Katy develops another recipe using our products. This time she set herself the task of creating up a restaurant-worthy treatment for our beef tenderloin filets. The quality of these tender filet mignon cuts does most of the heavy lifting in this recipe. The accompanying richly flavorful mushroom cream sauce and browned goat cheese are a great partnership with the complex notes of this grass fed filet of beef.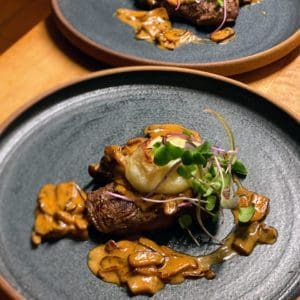 Print Recipe
Filet of Beef Medallions with a Wild Mushroom Sauce
Ingredients
For the Beef
2

medallions of beef tenderloin filet, approximately 6 oz each

1

Tbsp

butter

(Or use bacon fat, lard, or tallow)

salt, pepper, and crushed coriander seed to taste
For the Sauce
4

oz

Shiitakes or any mixture of wild mushrooms

1

Tbsp

butter

1

Tbsp

minced shallot

¼

tsp

smoked paprika

½

tsp

minced fresh thyme

½

tsp

grated fresh lemon zest

splash of brandy or madiera (optional)

¼

cup

beef broth

1/3

cup

heavy cream
To Finish the Dish
1

aged goat cheese button (such as Vermont Creamery's Bijou), cut in half through the middle

½

cup

microgreens
Instructions
Prep Steps
Thinly slice the cleaned mushrooms and mince the shallots. Make sure to have all the sauce ingredients measured and on hand since you will be adding these ingredients to the pan after you have cooked the filets and you want to move reasonably quickly for that step while the beef rests a few minutes.

Preheat a cast iron or steel pan over low-medium heat.

Season the filets of beef with the salt, pepper and crushed coriander seed.
Cooking
Once the pan is hot, add butter or fat to the pan. After it is shimmering, add the seasoned filets and cook 5 minutes per side for medium rare. Remove the filets from the pan and let rest on a plate while making the sauce.

At this point, preheat your broiler- a toaster oven is fine for melting the cheese.

To the still hot pan, add the butter and shallots and mushrooms and sauté until mushrooms are slightly browned- about 3 minutes. Season them lightly with salt, pepper, smoked paprika, thyme, and lemon zest. Stir together.

Pour in the brandy or madeira if using and the beef broth. Let simmer 1 minute before adding the heavy cream. Cook gently until the cream thickens lightly. Remove from heat.

Brown the goat cheese under the broiler – this takes about 4 minutes.
Plating Suggestions
Center the filets on pre-warmed dinner plates, top with the wild mushroom sauce, the browned goat cheese, and garnish with the microgreens.