Our high tensile fences in the pastures are strung on wooden fence posts, each sunk four feet deep. Over the years we've slowly added permanent fences throughout the farm. We're inching our way to the finish line, this year adding posts in some of the back pastures.
Here's a video showing the equipment we use for installing our fence posts.
Transcript

Hey, I'm Dave, your farmer from Wrong Direction Farm. Today and yesterday I've been installing some fence posts out here in the back pasture. So we use a rental piece of equipment for that. It's a post pounder. This one's actually a newer model that the rental place has. It has a vibratory head, so you put it on top of the fence post and it just vibrates it right into the ground. We sink our posts about four feet deep. Digging these by hand, or even using an auger on the back of a tractor, they always get hung up on rocks. So we found that a post pounder is really the most efficient and effective way to get posts into the ground and, you know, have them anchored there for the long term. So it's always a big job to get the posts in. We try to gang up a bunch of work to do at once when I rent this equipment to make the best use of the rental fee. And then afterwards I'll go out here with some galvanized wire and start stringing it up between the posts and get some more fences up.
I've dug plenty of fence posts by hand, and I've used post hole augers. But both methods are slow. And with all the boulders in our soil, this is frustrating work. So instead, I use post drivers. Drivers get the job done in a fraction of the time. Importantly, because the adjacent soil hasn't been disturbed or backfilled, the posts are more likely to remain in their original positions without canting or heaving over time.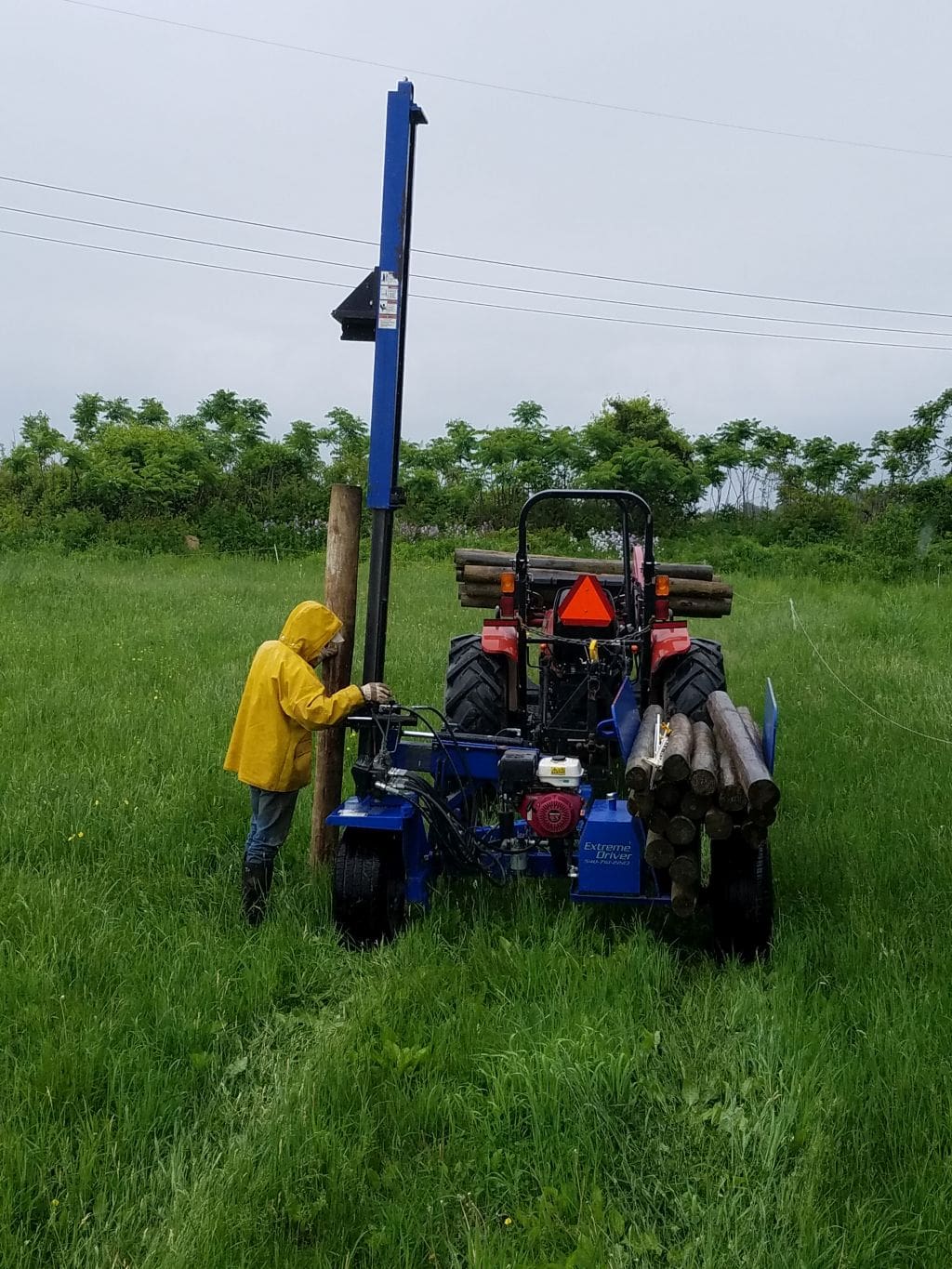 Above is a picture from several years ago when I was installing posts using a older model machine. This one lifted a heavy weighted section high into the air and slammed it down. It worked, and I used it for many hundreds of posts, but it had some drawbacks. It would occasionally shatter posts, sending large log-sized sections flying. And then of course there's the general risk of heavy weights crashing down near the operator's head, shoulders, and arms. There's a family story of Rachel's grandfather crushing his hand with one of these. That always gives me the shivers just thinking about it.
The newer machine employs a vibratory impact head instead of relying on brute force. This is a significant improvement. The slammer-type drivers would often cause the posts to jump around a bit before sinking them. That behavior was particularly troubling on steep slopes, where the base of the post would often slide downhill before embedding into the ground. The vibratory machines allow for superior placement precision. Another advantage is that when working with large diameter end posts or whenever driving into hard ground, the vibratory switch can be latched into position and the operator can walk away while the hydraulics keep on hammering.
With all these posts set in the ground, the next task will be stringing all the high tensile wire. This week I set up a couple of small sections of wire. But with all the other winter projects going on, I anticipate that the remainder of the job will have to wait until next spring.