Turkey, particularly the white meat, seems always to do well when brined in the juice from naturally fermented vegetables. I stumbled into this idea with my Fried Turkey Wings recipe. At first, I thought I had discovered something new. But I've come to understand that great cooks have known this forever. So much for any of my claims to originality!
This week's recipe from Chef Katy uses that same brining technique by combining our pasture raised and Certified Organic turkey breasts with lacto-fermented vegetables. For this meal, we're using the juice strained from kimchi. And, of course, we're making good use of the kimchi itself. That becomes part of a tangy yogurt sauce spooned atop the finished turkey breasts. Enjoy!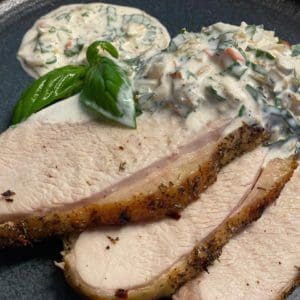 Print Recipe
Kimchi Brined Turkey Breast with Kimchi and Herb Sauce
Ingredients
1

boneless turkey breast 3 to 4 lbs, netting removed and un-rolled
For the Brine
1

cup

kimchi juice drained from a jar of kimchi

1

cup

buttermilk

3

cloves

garlic, smashed

2

Tbsp

kosher salt

1

tsp

freshly ground black pepper

1

tsp

ground coriander seed

1

Tbsp

fresh thyme, minced

1

Tbsp

fresh rosemary
For Roasting the Turkey Breast
For the Kimchi and Herb Sauce
1

cup

plain sheep's milk or cow's milk yogurt

½

cup

mayonnaise

1

cup

drained kimchi, minced into small pieces

¼

cup

cilantro, minced

¼

cup

fresh basil, minced

salt and fresh ground pepper to taste
Instructions
Combine all brine ingredients and stir well to combine. Liberally coat the turkey breast in the brine and then transfer all to a 1 gallon sealable freezer bag. Refrigerate the turkey overnight or at least 8 hours. Turn the bag over a few times to evenly distribute the brine.
Before Cooking the Breast:
Preheat oven to 450 degrees. Remove most of the brine and pat the turkey breast dry with paper towels.

Brush the turkey with enough melted butter to lightly coat all sides. Place the turkey in a roasting pan and cook for 10 minutes at 450 degrees.

Reduce the oven temperature to 300 degrees and continue cooking until breast has reached internal temperature of 160 degrees.

Baste occasionally with the remaining melted butter.

Once turkey breast is fully cooked, let rest for at least 20 minutes before slicing and serving.
While Turkey Breast is Roasting
Prepare the kimchi and herb sauce. Combine all ingredients in a bowl and stir to combine. Taste for seasoning and adjust as needed.
Notes
Like this recipe? If you enjoyed this one, you can branch out by experimenting. Try brining the turkey breast in a different kind of lacto-fermented vegetable. Sauerkraut, dill pickles, curtido, and giardiniera all come to mind as tasty culinary foundations for a brine. Enjoy!