Our ATV is thirteen years old and is starting to show its age. It had plenty of wear and tear when we bought it, but I'm sure its life around here has been harder than whatever the previous owner put it through. But for all its wear and tear, it is one of the most useful tools we have on the farm. It gets used for all sorts of transportation, but it is most valuable for cattle grazing management. This is the case because the herd can at times be a long walk from the house and because we have a lot of posts and reels to carry while building each day's grazing paddocks. We've made a few simple customizations that make fence work more efficient.
Early this spring I built a guard that allows us to drive over electric fences. This saves a surprising amount of time and hassle. I had seen some pictures of farmers in New Zealand using these, but I've never seen one in person so I didn't quite know what to expect when building mine. Call it either beginners luck or uncanny engineering skill, but it seems I landed on a good design for the slope and curves on my first try. The guard is built from 3/4″ EMT conduit. It starts out in front of the ATV higher than the normal fenceline on our farm, and the curve of the tubing pushes the wire down and under the vehicle. I carried the conduit the full length of the belly and out the back, to prevent the wire from snagging on some of the undercarriage surfaces.
On the front we've mounted milk crates for storage. Yes, I know the crates have warnings "USE BY OTHER THAN OWNER PUNISHABLE BY LAW", but we actually came by them honestly from a milk bottling plant that was throwing out their cracked crates. I cut out the damaged sides and bolted them together to make a work basket. We use it for holding fence posts and bungee gates. The basket also has a brace for carrying a fence reel so we can unwind polywire while driving. Extra reels and posts can be strapped to the rear platform, allowing us to zip around with four reels and a hundred posts.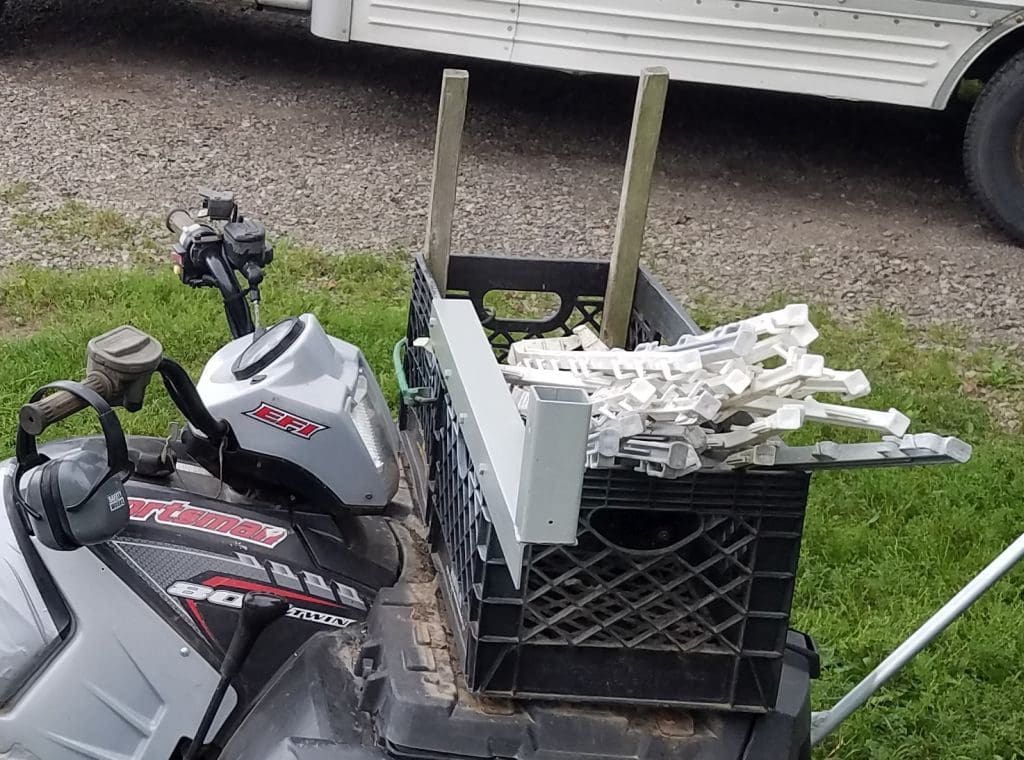 During most of August I had the ATV all in pieces in the driveway. It was due (overdue) for a complete suspension overhaul. We literally drove it until the wheels came off, at which point I couldn't put the repairs off any longer. Finding time for the job was challenging so I chipped away at the project, dragging it out over weeks. I ended up repairing:
Front ball joints, wheel bearings, bushings, tie rod ends
Rear CV axles, bushings
Brake pads
Front propshaft u-joints
Exhaust manifold studs (several had walked themselves loose)
Battery box (it cracked, letting the battery fall through the chassis!)
Loose bolts and plastic panels all over the place
The repair job kept growing as I dug deeper into the machine, but I'm glad I stuck with it. With all the other projects going on, I was sorely tempted to send the machine to an upcoming equipment auction. I'm glad I stuck with it though. Working with a lightweight ATV is far easier and faster than trying to do fieldwork in a heavy pickup truck or tractor. The way we've set up the machine, all the needed supplies are within arm's reach and we can hop off and on the machine in seconds. Having it up and running well again, I'm reminded of how useful it is.
I'll call your attention to my seat repair. The vinyl on the seat has cracked and torn, giving us soaked butts on rainy days. Duct tape to the rescue. As Red Green said, "Remember, this is only temporary. Unless it works."