Here is the second installment in my series outlining the changes planned for Wrong Direction Farm in 2017.  I'll use the Sergio Leone's time tested rubric to review the plans for pigs this year.
The Good
There's no doubt about it:  pigs are my favorite farm animal.  I like cattle as a group, but I like pigs individually and collectively.  I keep getting better at understanding both the animal management and the meat sales part of the business.  This isn't a brag, just an acknowledgement that the years of hard knocks are starting to pay off with a much more practiced eye for pigs and pasture.
I've been able to keep the target price locked for five years running, so I'm glad to be able to maintain stability for our customers.  Pork sales have been improving.  I've been having some trouble marketing pork chops as premium products and customer demand seems to gravitate more toward traditionally low-end cuts (butt roasts and sausage) so our supply/demand ratio causes our "cheap cuts" to be overpriced and our "prime cuts" to be underpriced.
This year I plan on raising the average carcass weight.  The pigs have been averaging 175 lbs (skin off, head off, organs removed) hanging weight, but I'd like to push that into the 220s consistently.
The last "good" to mention has been the addition of salami.  We added Fuet last year and we have a batch of Soppressata in the works.  Coordinating with the salami shop has been challenging and meeting their new minimum batch size (1000 lbs) is a stretch, but the consistently positive customer feedback make this a great product category.  I'd like to work next on a formulation for a no-nitrate pepperoni, but that's been a little more elusive compared to some of the other salami recipes they can produce.
The Bad
The glaring bad thing is that I've spread myself too thin (that will be a repeated theme in this series) and I don't have time to do everything well.  Pig breeding and farrowing didn't get the attention it deserved.  I was too slow to notice that my boar had become infertile and too distracted to switch gears once I discovered it.  Likewise I've been bringing along a few sows with poor maternal instincts and not making the right culling decisions, consequently I've accepted small litter sizes for too long.
My plan for 2017 is to stop breeding pigs.  I sent most of the older sows to the butcher in December (see previous reference to the big batch of soppressata) and the remaining two will go next week.  This has been a tough decision.  I really like sows and I like piglets.  I like the idea of the farm being self sufficient for its breeding stock.  I don't like the idea of having to come up with big wads of cash every time I need to buy a batch of piglets, especially since I was able to maintain the sows quite economically with whey supplementing their pasture diets.
On the other hand, I must reset my focus on doing the things I know I can do well to put the farm on a more stable foundation.  I am hopeful that in the future I'll be able to get back into the pig breeding work.  In the meantime, I am glad to have several family farmers I know I can work with confidently to buy their weaned piglets.  Although this is a loss of independence, it is a gain of interdependence.   It helps my outlook to realize that I can support other farmers to achieve their goals as I work to achieve mine.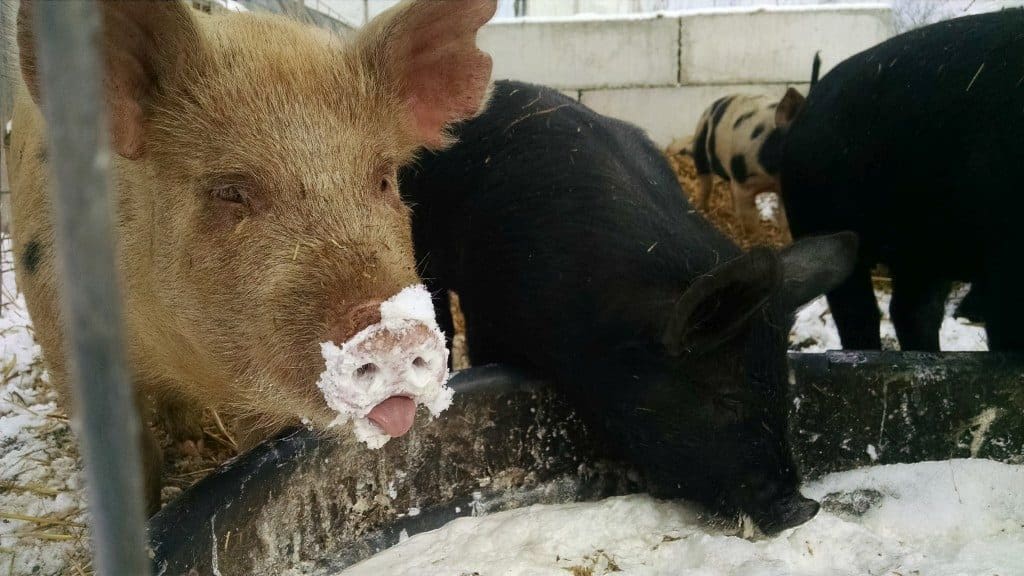 The Ugly
This year I haven't been happy with my bedding management for the winter hoophouses, so they were getting pretty mucky when we had our big January thaw.  Last weekend I loaded 20 cubic yards of wood chips into the hoophouse and that fixed the situation immediately.  I want to be more on punctual with this in the future.  One thing that makes it easy to procrastinate on adding wood chips has been the cost.  Each 20 yard load is $320, delivered.  I have not had much success getting landscapers to consistently dump wood chips, but another resolution for this year is to track down some more landscapers and get on their list.