The whole idea of feeding hay runs counter to the prevailing wisdom in swine production, where feeding anything other than supercharged grain rations is considered foolish.  But in farms like ours where there are concerns beyond simple feed conversion calculations, hay feeding has its place.  But I've always wondered:  what is the right hay for pigs?  We know from all the old books that pigs do quite well on alfalfa pastures.  So a few years ago I bought some nice alfalfa/clover baleage and the pigs thought it was just OK.  Given the choice between rank, stemmy hay bales and baleage, they always chose the hay when I placed them side by side.  The cattle loved the baleage, vastly preferring it over even the best dry hay I had.  So I know the baleage itself wasn't at fault.
This year I'm feeding my pigs what would be considered junk bales by any standards.  These bales have been sitting outside for two seasons.  They were first cuttings from unfertilized hay fields cut in August 2015.  They are full of weeds, stems, and thistles.  The outside few inches are slimy but the cores are still in good shape.  The pigs love them.  I've been watching the pigs as they eat this hay, and it looks like they are searching through the hay.  Their lips and tongues are agile, and their noses of course are keen sense organs, so I believe they are sorting the hay for the highest nutrition components.  Sure, lots of the hay is nutritionally weak, but in any stand of rank grass there's usually an understory of legumes and tender forage that still has lots of energy and protein.  And I think that's what they are going after.  They seem (it is hard to tell because they shift around while eating) to be able to singulate down to individual leaves and stems to select the best ones while leaving the less valuable pieces on the ground.  They need bedding on the ground anyway so the system seems to work automatically for me.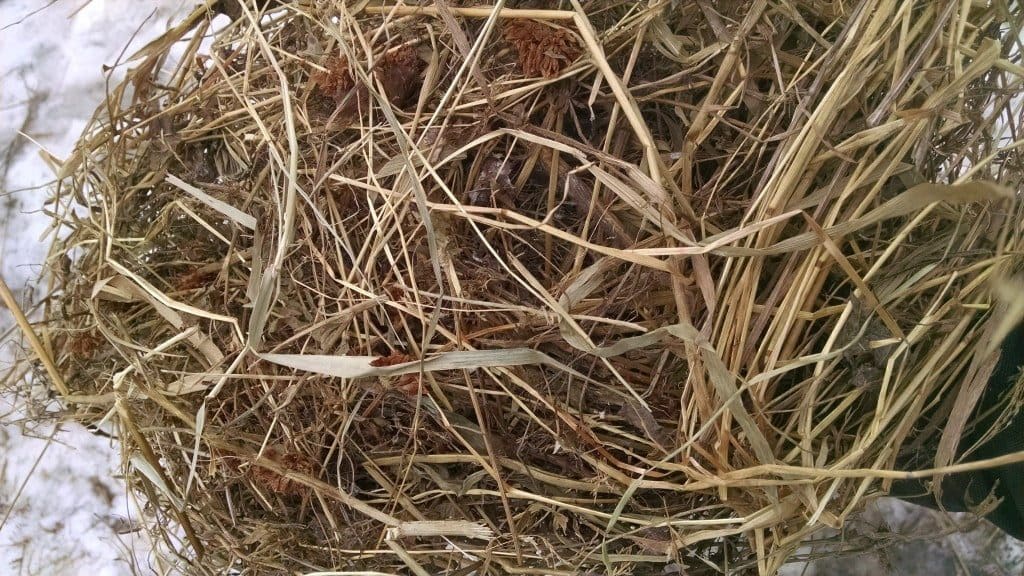 Since they need bedding anyway, I really don't mind them doing the work to separate the bedding from the valuable hay.  Sure, it isn't a completely efficient process, but it leaves me thinking I should continue to feed pigs junk hay.  Why not feed $15 round bales instead of $45?  It saves me the hassle of worrying over them wasting good hay.
That's my strategy for now.  I'm not absolutely convinced it is the best way to go.  Perhaps feeding high quality bales and providing separate bedding bales might pencil out differently, but these sorts of things are hard to measure empirically.