This week's recipe from Chef Katy uses our pasture raised, Certified Organic chicken breasts in a simple miso butter preparation. Katy included some suggestions for a great medley of side dishes, but of course there are plenty of other pairings for you to serve alongside the chicken bowl. Enjoy!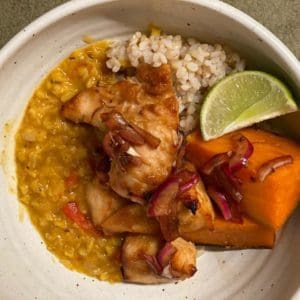 Print Recipe
Miso Butter Chicken Bowl with Red Lentils, Sweet Potatoes and Pickled Onions
Serve this dish with your favorite whole grain and garnish with the pickled red onions.
Ingredients
2

chicken breasts, cut in 1" chunks
Miso Marinade
½

cup

white miso

3

Tbsp

softened butter

2

Tbsp

rice vinegar

2

Tbsp

soy sauce or tamari

1

Tbsp

maple syrup
Sweet Potatoes
1

large (or 2 small)

sweet potatoes, rinsed and scrubbed but not peeled

1

tsp

olive oil, for brushing
Red Lentils
1

cup

red lentils

1

Tbsp

olive oil

1

clove

garlic

1

Tbsp

ginger, grated

¼

cup

onion, minced

1

tsp

cumin seed, ground

1

tsp

coriander seed, ground

1

tsp

turmeric

1

tsp

rosemary, minced

4-6

cherry tomatoes, quartered

4

cups

water

sea salt and black pepper to taste
Pickled Red Onion
½

red onion, peeled and thinly sliced

3

Tbsp

Balsamic vinegar

1

tsp

thyme, minced

1

tsp

lemon zest, grated

1

tsp

sea salt

½

tsp

turbinado sugar (optional)
Instructions
Miso Butter Chicken Instructions
Combine all ingredients and evenly coat the chicken chunks. Let the chicken marinate in refrigerator for up to 4 hours.

Place the chicken on a wire rack over a baking sheet to allow air movement around it. Roast at 350 or 375 for 30 minutes or until chicken is 160 degrees internal temperature.
Sweet Potatoes Instructions
Lightly brush the sweet potato with olive oil and place on a baking sheet. Roast until quite tender- about 40minutes.

Cut the sweet potato into quarters or eighths.
Red Lentils Instructions
Rinse the red lentils in a sieve.

Sauté the garlic, ginger, onion and spices in the olive oil for 2-3 minutes.

Add the rosemary, tomatoes, red lentils, and water. Season lightly with salt and pepper.

Simmer the lentils until very tender- about 20 minutes. Taste and season more if desired.
Pickled Red Onion Instructions
In a non-reactive bowl, combine all the ingredients and allow to age at room temperature for 1 hour before serving.

Leftovers will last nicely in the refrigerator for up to 2 weeks.