Our grass fed and grass finished Skirt Steak is a supremely flavorful cut, but because it is thin it cooks really quickly over high heat. It only requires a few minutes in a simple steel or cast iron pan. So you'll need to make sure your sauce is powerfully flavorful and straightforward because it won't have a lot of time to interact with the beef. That's why a secondary glaze is so great here- it picks up all the flavors of the marinade and amplifies them.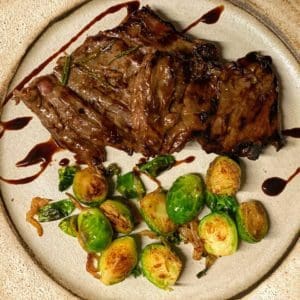 Print Recipe
Black Steel Roasted Grass Fed Skirt Steak with a Balsamic and Rosemary Glaze
Ingredients
2

lbs

skirt steak, trimmed if needed

2

Tbsp

rendered fat
For the Marinade
For the Glaze
1

cup

balsamic vinegar

1

Tbsp

rosemary, minced

1

Tbsp

honey
Instructions
Combine all of the marinade ingredients and pour over the skirt steak, turning until the steak is evenly coated. Marinate in the refrigerator for 2 hours.

In a non-reactive pan, combine all the glaze ingredients and very slowly reduce at a low simmer until the glaze coats the back of a spoon.

Heat a cast iron or steel pan with the rendered fat until the fat is shimmering.

When ready to cook the steak, drain most of the marinade off and lightly blot the skirt steak with paper towels. Add the steak carefully and cook 2-3 minutes per side until you get a deep browning.

Let the steak rest on a cutting board for at least 5 minutes before slicing into thin angled slices.

Drizzle the sliced skirt steak with the balsamic-rosemary glaze.
Notes
Tip: When slicing skirt steak before serving, observe that the meat will have a direction or "grain" running across the short length of the piece. For best texture, slice the meat so your knife is cutting across these strands of muscle. If you slice along the same direction of the grain of the meat, it will be much chewier, so we always recommend cutting across the grain.