You'd be forgiven if you looked at our pasture after the cow herd moved across it and thought, "This can't be good." The field looks like it's been been run over by a steam roller.
But I want to make the case for trampling, for doing what we can to encourage the cattle to leave a swath of trampled plants in their wake.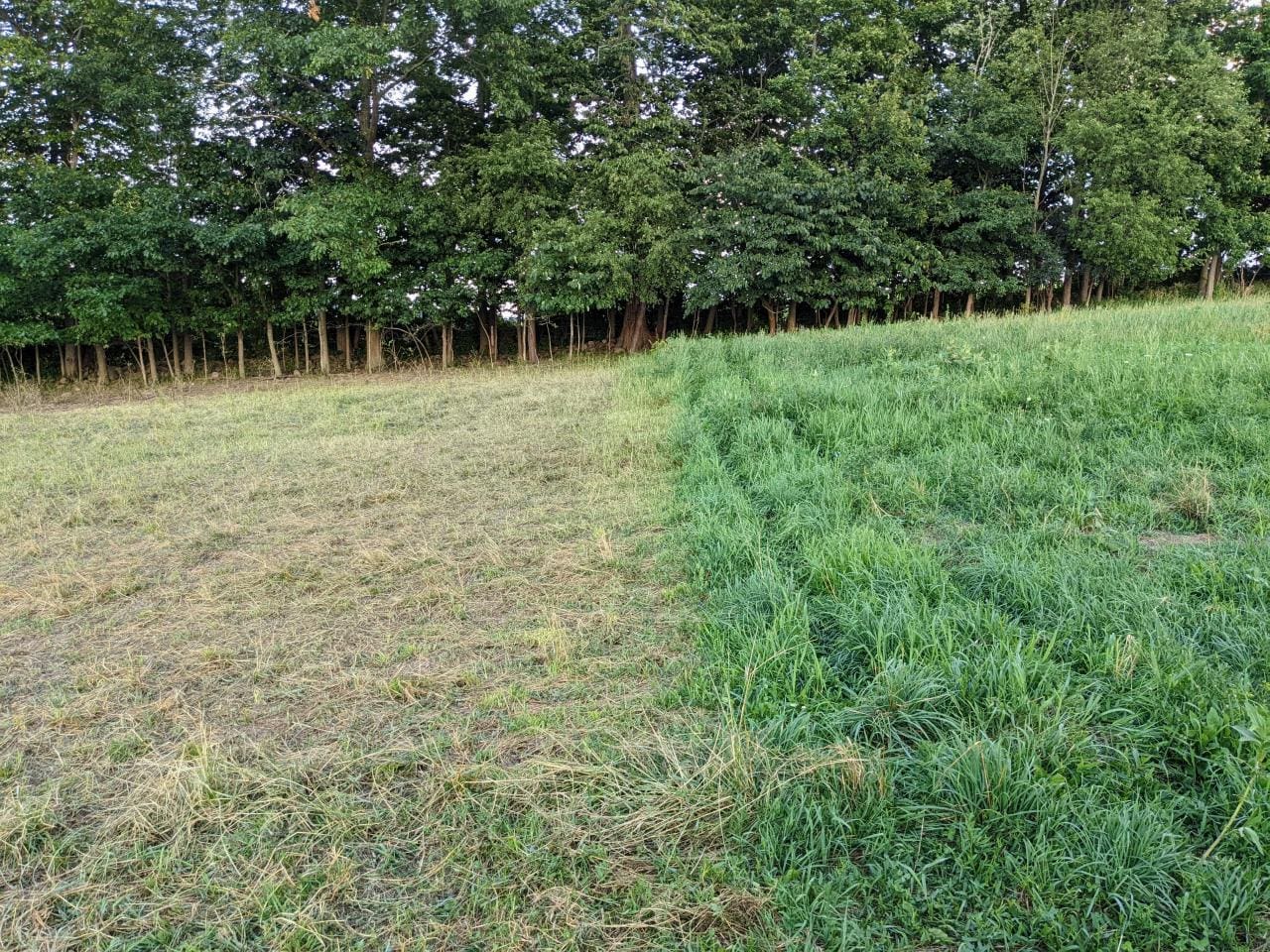 I took this photo in late July, two months before today. It shows a sharp dividing line, with a grazed paddock on the left and an ungrazed paddock on the right. The cattle grazed the best, most nutritious leaves from the plants and trampled the hard stems and stalks into the ground. The trampled grasses quickly turned brown, leaving the whole area looking desolate, and in strong contrast with the vibrant green of the nearby untouched grass.
But instead of all this activity creating a problem, we have learned to manage the cattle to create an environment that is actually beneficial for the grasses, for the soil microorganisms, and for the whole biological web. Let's take a closer look at a patch of grass after the cattle have grazed it, trampled it, and dropped their manure on it.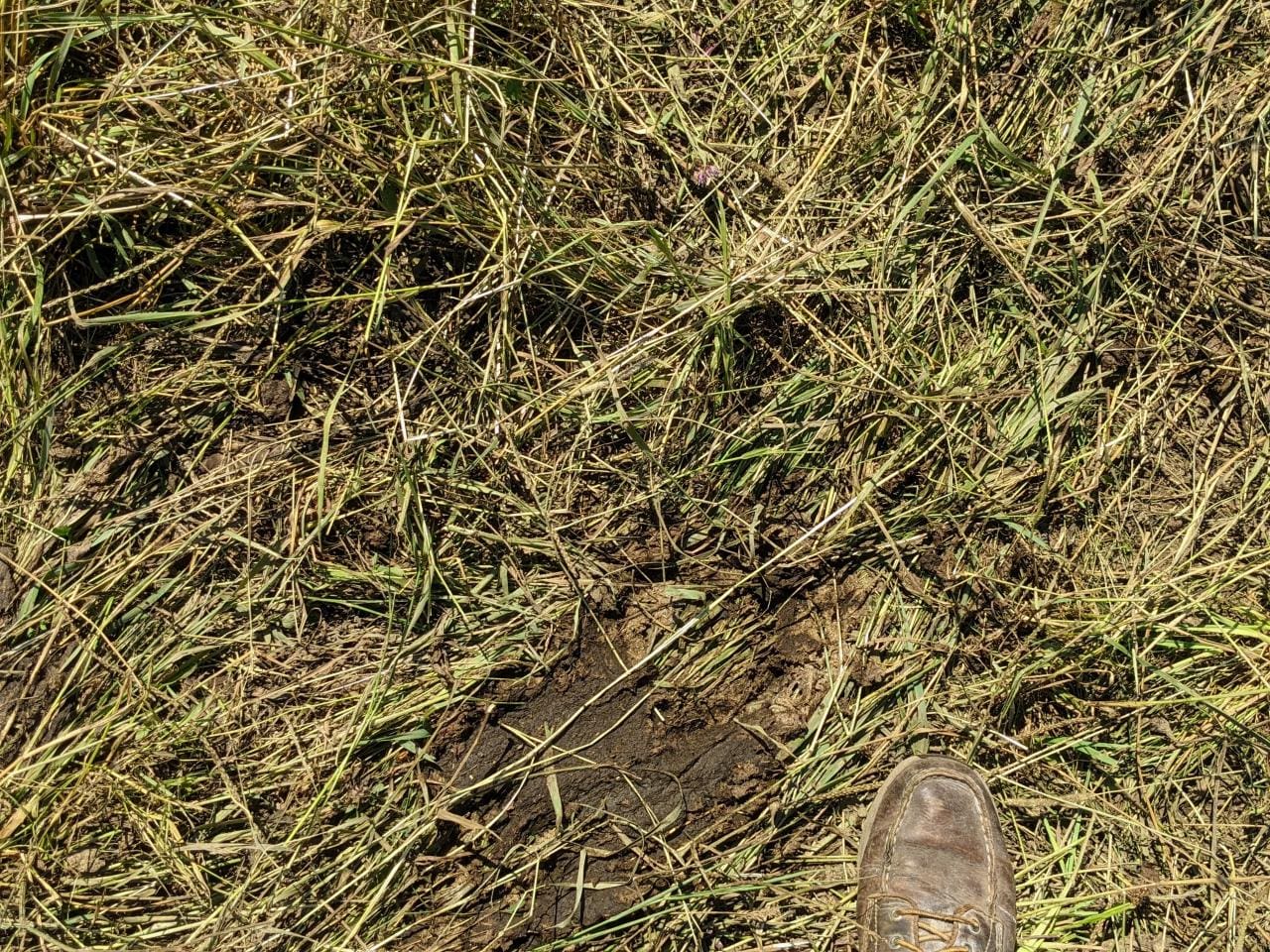 There's not much of a color palette here. The stalks are flat, even the manure has been squashed. But even though it all looks dead, I like to think of this photo as capturing an inflection point, just at the transitional moment that allowed natural systems to reset and then to ratchet themselves up to another level.
Instead of opening up the whole farm to the cattle, giving them full access to graze their way across the same fields day after day, we take a more management-intensive approach. We bunch our cattle up and move them in a group to fresh grass every day. When managed in a tighter group, similar to the way they would behave in a wild environment, their grazing patterns change. They graze the best grass and trample the rest. The next day we move them somewhere else and they won't come back to this spot for some time. We typically allow our pastures about two months rest between grazing events.
During that recovery time, the fallen plant matter creates a mulch-like covering over the soil. Because the cattle haven't been in place for enough time to damage the roots, the grasses quickly send up new green shoots through this matted layer. And because the cattle aren't there to graze the tender new growth, the plants regrow without setbacks. The leftover soil-protecting mulch is especially important in years like this, when we experienced a very dry period mid-summer. Our trampled grass mulch protected the soil from excessive drying and allowed our pastures to spring back up to full production when rains returned a few weeks ago.
This crushed layer of plant stalks and stems also sets up a feeding bonanza for all kinds of animals and fungi. Insects and earthworms can't do much with standing plants, but they go after it hammer and tongs when forage has been laid down in contact with the soil. They carry plant matter down into the soil profile, and then microscopic animals, fungi, and single celled organisms further disassemble the pieces. This biological disassembly process is the foundation for soil development. From the tiniest single celled organisms that are digesting this plant material and incorporating it into the soil, all the way up to field mice and from them to the hawks and owls that hunt them, life thrives. We find that creating localized, short-term disturbance events leads to increased opportunities for more life to abound. There's a full vertical stack of life, from below ground to the surface to above ground, all dynamically participating in this biological pulse.
Undoubtedly, moving cattle from pasture to pasture every day creates a lot of work for us. Rachel does all of the daily cattle herding chores, and this ties up many hours of her week. But if we want to raise cattle in a way that truly regenerates our land and our local biome, there's no getting around the work. Cattle can destroy land or they can make it better. If we work with them in a way that reflects their natural grouping behavior and their natural grazing instincts, we can unleash their potential for making positive changes within our landscape. To us, that reward seems worth the effort of daily moves.