We're bringing Harry into the chicken raising operation as it was getting to be too much for AJ to handle on his own. The division of labor will be for Harry to take the newly hatched chicks through their brooder phase while AJ manages the chickens once they are old enough to go out to pasture. Earlier this spring Harry shadowed AJ to make sure he knew what to do and now he's caring for three batches of chicks. The first few weeks in the brooder are critical to the health and wellbeing of a chicken for the rest of its life, so this is a significant undertaking for a newly-turned twelve year old.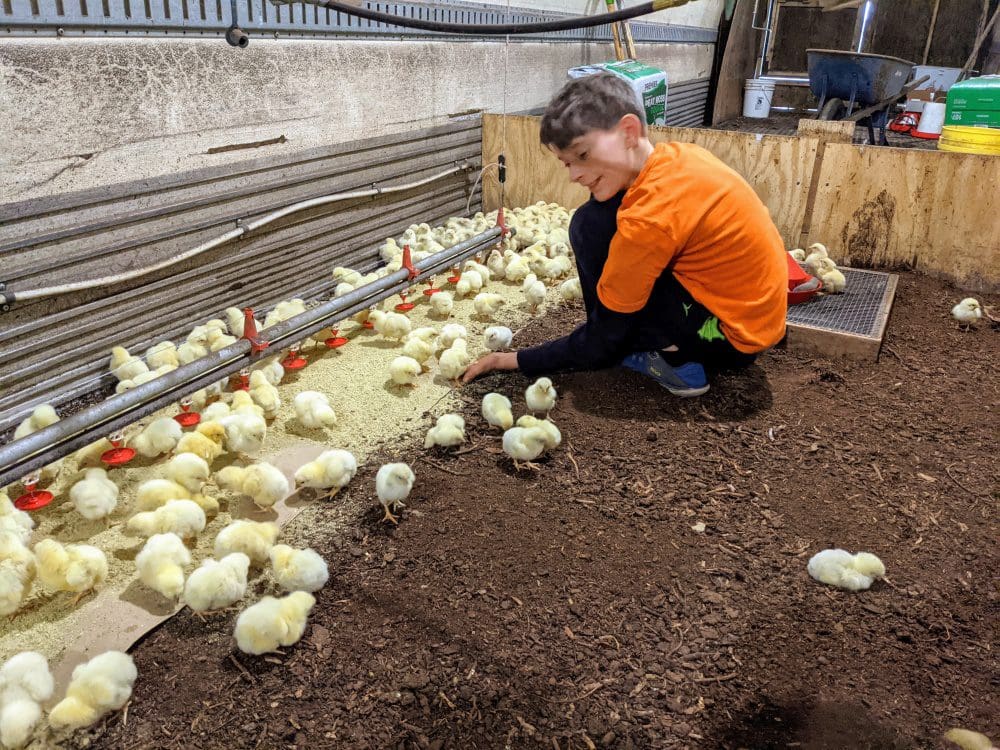 Harry has been doing an outstanding job with them. We're glad to see him taking on this responsibility so conscientiously. The job involves doing three daily checkups on each brooder, testing the waterers, filling the feeders, adjusting the heaters and fans, freshening the bedding, and diagnosing any problems that might come up. After he hands off the chicks to AJ when they go out to pasture, there's a big job of shoveling out the old bedding, sweeping the brooder, and prepping it for the next batch.
I like the idea of our kids taking on these tasks. I don't require that they aspire to be chicken farmers and I certainly don't want to exploit their labor, but I would like to give them the privilege of meaningful work. Whatever life they choose, they'll be well served by developing patterns of — with a nod to Rooster Cogburn — true grit. I find great satisfaction in hearing their updates, particularly when they discover a problem and work their way into a solution. Today AJ found a leak in a water line and repaired the fittings. Yesterday Harry showed me how he cleaned the air filters on the heaters to help them run better. When I went over the list of turkey tasks with Allie this afternoon, she was glad to tell me that she was already a step ahead of me having finished everything early.
I've probably nearly worn out these concluding lines from Wendell Berry's poem A Vision, but I can't leave them alone.
This is no paradisal dream.
Its hardship is its possibility.

Wendell Berry, A Vision
Of course our farm is no paradise. Things break. Confusion persists. We know how best to annoy each other. Intentions and actions don't always align. But somewhere in there I hope there are opportunities for each of the kids to thrive as they take an aspect of farming, work hard at it, and find joy in the accomplishment.