When dividing up a chicken, my druthers always go to the dark meat. So this week's recipe from Chef Katy has a special place in my hierarchy of reliably great meals. Fried chicken drumsticks are a delight.
By long tradition, tangy buttermilk has been the critical ingredient for tenderness in fried chicken. But buttermilk also adds to the flavor profile. The other important point is to use a high quality rendered fat (such as our grass fed beef tallow or pasture raised pork lard) which not only makes a wonderfully crispy crust.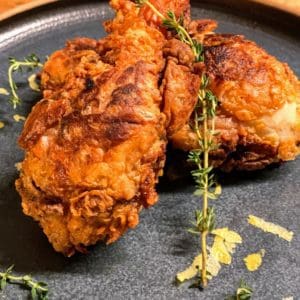 Print Recipe
Buttermilk Fried Chicken Drumsticks with Lemon and Thyme
Ingredients
Drumstick Marinade
8

pasture raised chicken drumsticks

2

cups

buttermilk

2

tsp

garlic powder

2

tsp

smoked paprika

1

Tbsp

lemon zest (plus a little extra for garnishing)

1

Tbsp

minced thyme (plus a little extra for garnishing)

1

tsp

sea salt or flake salt

½

tsp

freshly ground black pepper
Dredging Flour
3

cups

all purpose flour

1

cup

whole grain flour

2

Tbsp

sea salt

1

tsp

freshly ground black pepper

2

tsp

smoked paprika

1

quart

rendered fat for frying
Instructions
Combine all the marinade ingredients in a deep bowl that can submerge the chicken drumsticks. Marinate for 3-4 hours in the fridge, turning once or twice to ensure the chicken marinates evenly.

When ready to fry the chicken, bring the drumsticks out to warm up a little- about 30 minutes before cooking. Choose a thick-bottomed skillet or dutch oven for frying. Heat the rendered fat to 350 degrees using a thermometer to maintain the temperature.

Dip each drumstick in the seasoned flour and coat fully. Once all drumsticks are dredged, gently lower into the hot fat and cook for 10-15 minutes or until the internal temperature has reached 160 degrees.

Drain the drumsticks on paper towels and season with thyme, lemon zest and salt and enjoy!