Chef Katy Sparks does it again with another seasonally on-point recipe. This time she used Wrong Direction Farm grass fed ground beef to make a wonderful beef chili mole. Ground beef slow cooked with chocolate, poblano chilis, and ground pumpkin seeds, what's not to love?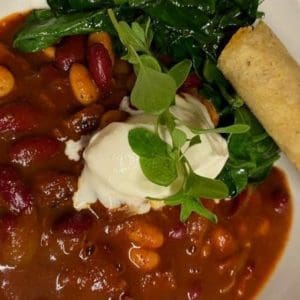 Grass Fed Beef and Bean Chili Mole
If you've ever encountered an authentic mole (a famous Mexican dried chili-chocolate sauce thickened with nuts or seeds) made with love and care you may have been as struck as I was by the haunting alchemy of its flavors. I first tasted a handcrafted mole at Rick and Deann Bayless's wondrous Chicago restaurant Topolobampo. Not to build up too much expectation here because this recipe is a quick, down and dirty version of the great sauce — but in this context I think it is very rewarding. The local grass-fed beef anchors the whole dish and the nod to the mole via employing some of its key ingredients (unsweetened cocoa powder, ground pumpkin seeds, cinnamon) makes for a fun and delicious twist on a more traditional beef and bean chili. As with most long-cooked dishes, try to make it one day or even two days before you plan to serve it. The powerful flavors are best softened and melded by the extra time and proximity. Aren't we all?
Ingredients
1

T

olive oil

1

small

onion, diced

1

poblano chili, seeded and minced

2

cloves

garlic, minced

1

lb

grass fed and finished ground beef

salt and pepper

2

T

ground dried red chili powder

Try to find dried ancho chili powder, the fresher the better.

1

T

freshly ground cumin seed

1

tsp

ground coriander seed

1

tsp

ground cinnamon

2

T

unsweetened cocoa powder

I use Guittard's Cocoa Rouge Powder

2

T

tomato paste

2/3

cup

finely ground raw, unsalted pumpkin seeds

You can substitute raw unsalted almond butter

1

tsp

dried oregano

2

cups

crushed canned tomatoes

2

cups

beef broth or vegetable broth

1

bay leaf

2

cups

cooked white beans

1

cup

cooked red kidney beans
Notes
In a heavy bottomed dutch oven, heat the olive oil until it shimmers. Add the onion, poblano chili and garlic and stir frequently until all these have softened — about 4 minutes. Add the ground beef and season lightly with salt and fresh ground black pepper, stir until beef is browned. Add the chili powder, cumin, coriander seed, cinnamon and cocoa powder to the beef and stir well over medium heat to activate the spices.
Add the tomato paste, ground pumpkin seeds (or almond butter) and oregano to the beef mixture. Stir well to combine. Add the crushed tomatoes, broth and the bay leaf. Bring the chili mixture up to a strong simmer, cover and reduce the heat to a low simmer.
After 1 hour add the beans. If chili is getting too thick, add a little more broth or water.
Serve with warmed soft corn tortillas, sour cream or yogurt and a fresh herb like marjoram or cilantro and a little dollop of sautéed greens.