When people visit the farm I'll frequently get a surprised comment, "Wow, that's a lot of chickens!" And for the average person's experience, I suppose a group of five hundred chickens is a lot, so I understand. But to my eye, this is just a small group of chickens. A conventional United States chicken farm usually raises in the range of a half million to three million chickens per year.
I spoke with a farmer who had three thousand laying hens on pasture. When people at the farmers market would ask him how many birds he raised, he'd always lie and keep the number in the hundreds. That made people happy. If he quoted a number in the thousands, their faces would fall and they would leave the stand. "Three thousand" sounded evil, like a factory farm. People wanted to hear a number less than one hundred, but they'd accept anything less than a thousand. At the place where people shopped with the goal of knowing their farmer, the two sides couldn't communicate openly.
Everyone likes small farms. But how big can a small farm be before it is no longer a charming small farm?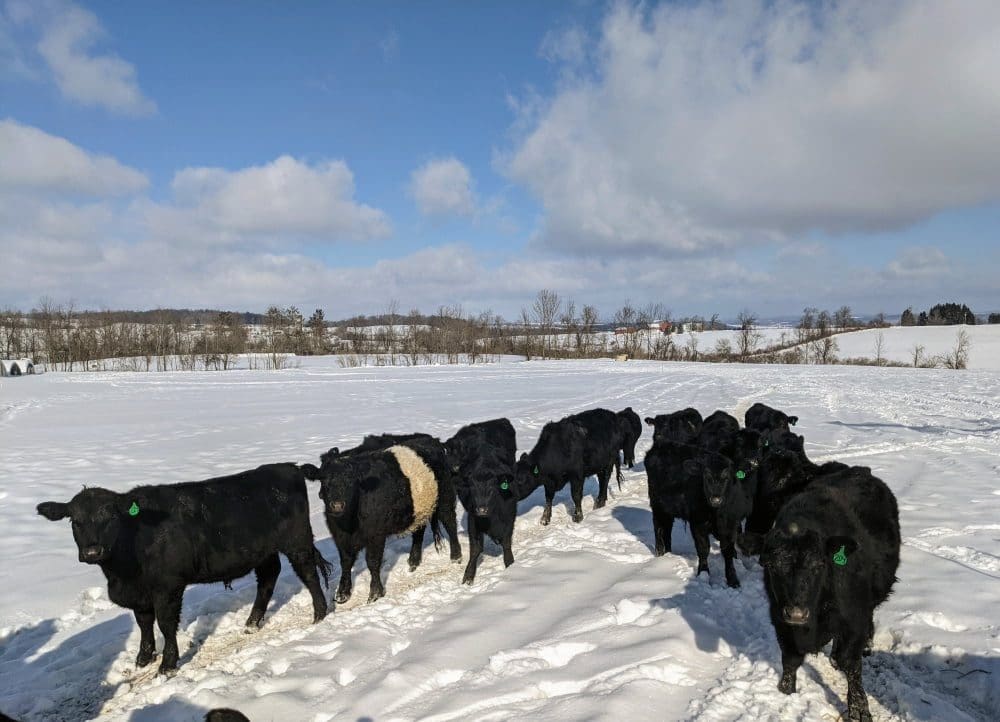 This is where we face the Old MacDonald problem. Most of us grew up with farm coloring books showing one horse, two cows, three ducks, four geese, five chickens, six ears of corn, etc. These childhood storybook views of agriculture stick with us and influence our conception of farming. The picture books present the straw-hatted farmer working from sunup to sundown, so it is pretty clear he doesn't have time for a side gig. How does Old MacDonald generate enough cash to pay the mortgage? Or the property taxes, general liability insurance, utility bills, internet, tractor repairs, and worker's comp for his trusty farmhand? Where does he get the money to keep his barn so well coated in red paint?
Old MacDonald's barnyard is a great model for a homesteader. But he wouldn't survive as a full time farmer here in Upstate New York.  Unless maybe, all this time he's been running that farm as a front for something else…
I've gone over numbers with other farmers who are producing and selling products similar to ours, and it seems that for a family to earn a $50,000 salary from direct marketed livestock farming, they need to be selling between $250,000 and $500,000 annually (lower numbers for established farms with land and infrastructure paid for and higher numbers for new farms building everything from scratch). This level of production is difficult for most small farms to achieve. In our economy, is $50k even enough to compensate motivated, educated, entrepreneurial farmers? We often bemoan the low pay for teachers, but for reference a teacher in New York City with a bachelor's degree and no teaching experience earns $57,845 starting pay plus retirement and healthcare.
In every respect, Wrong Direction Farm is a small farm. I don't have any plans for gobbling up the market. I'd prefer a world where this farm remained one tiny piece in a grid of successful farms. But I wonder at the focus on small over successful. For farmers to be successful they need to be productive. Based on the average selling prices I see in the marketplace and the average production costs, a farmer with a direct-to-consumer market will need to sell about 10,000 pasture raised chickens or 80 grass fed beef cattle in order achieve that $50,000 pay target (again with some variability based on the amount of fixed costs in the operation).
Those numbers may not seem small, but in this case small isn't the right goal. If we as a society wish to support a thriving agricultural system, we must think bigger about small farms. We need to have successful, productive farms. This isn't about productivity über alles. None of this requires an expansionist race for each farm to become the next Tyson Chicken. And we never should compromise on critical issues like land stewardship, water quality, soil health, humane treatment, farmworker pay, or nutrition. But we absolutely need to make sure there are opportunities for farmers to reach productivity levels that meet their income needs.
Who is going to draw the coloring books so the next generation of kids are not carry the same misconceptions forward?