When I learned about the Syracuse Salt Company and their story, I knew I had to find a way to offer their products on our website. They are exactly the kind of family business we love to support, as they are committed to artisanal production right here in our area. And since their seasonings are a natural culinary pairing with our farm's meats, the connection makes perfect sense.
David Iannicello and Libby Croom are a father and daughter team behind the Syracuse Salt Company. Scattered throughout our part of Central New York one can find salt springs, places where brine surfaces from ancient underground salt deposits. The Syracuse area is known for especially productive and pristine salt deposits.
After getting their start selling specialty sea salts, David and Libby discovered that they could get their own salt well drilled to tap into this salt deposit right under their feet. Here's how they describe their process:
"In order to produce this beautiful flake, we evaporate the water slowly, leaving behind a pure, snow white flake loaded with minerals. It is sifted to a uniform size and hand packed for your use. As an added benefit, because the salt comes from a well, there is no risk of micro-plastics as with some sea salts."
The result of their work is a fantastic finishing salt, versatile enough to rim your cocktail glass or to season your steak.  They also produce some excellent seasoned salts.  We're offering their Black Garlic Flake Salt (made with fermented garlic grown by another farm in our area), Rosemary Flake Salt, and Chili Black Lime Flake Salt.  Everyone in our family likes the Rosemary salt; it is a real crowd-pleaser.  Rachel enjoys the Chili Black Lime salt on wedges of avocado.  I think the Black Garlic salt is perfect when I sprinkle it on my morning plate of fried eggs.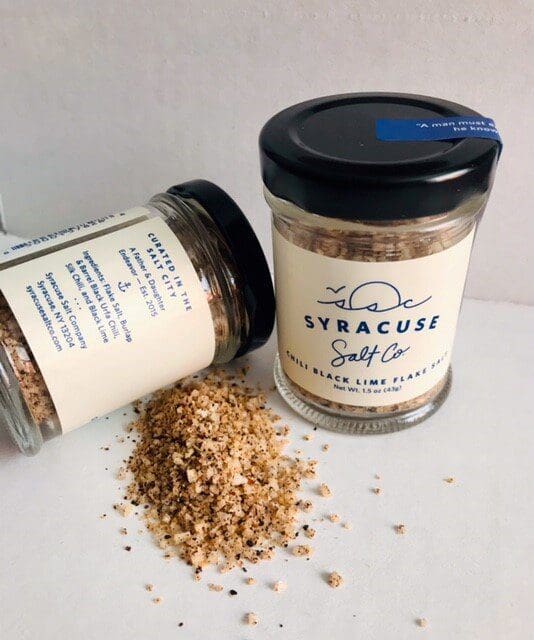 Try it and let me know what foods you're using it on.