There's often an expectation that beef stew is a cold-weather meal, but I've noticed that our customers tend to order stew cubes consistently year-round. And that seems right to me. I think there are times when our bodies just know what they need, and sometimes a hearty, slow-cooked meal hits the spot perfectly.
This week we're featuring a new recipe developed for us by Chef Katy, using our grass fed beef stew cubes. She described it to me as just like the perfect little black dress because it is appropriate on so many occasions. I can't really comment on little black dresses — I haven't yet found an occasion where I needed to wear one. But I think I can understand the clothing simile. Maybe I'll adapt it to my circumstances and say that a good beef stew recipe is like my reliable flannel shirt; it always fits right in.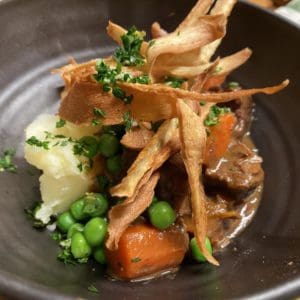 Print Recipe
Grass Fed Beef Stew with Fried Parsnip Chips and Gremolata
This beef stew is given just a little twist with the addition of Korean gochujang paste but is still excellent if you prefer to stick with the straight tomato paste. Much depends on the quality of the beef and the quality of the broth and the wine. The low and slow cooking will do the rest. Serve with a dollop of creamy mashed potatoes or root vegetable mash of your choice and a scattering of sweet green peas.
Ingredients
For the Stew
3½ – 4

lbs

beef stew meat, lightly seasoned with salt and pepper

3

Tbsp

beef tallow, lard or chicken fat

1

yellow onion, peeled and sliced

2

cloves garlic, peeled and minced

2

Tbsp

gochujang paste

(or red miso mixed with pepper flakes for a reasonably similar effect)

2

Tbsp

tomato paste

¼

cup

all purpose flour

1

cup

dry red wine

3

cups

beef broth or stock

1

large bay leaf

3 – 4

large carrots, peeled and cut into large slices
For the Gremolata Garnish
¼

cup

minced fresh parsley

1

tsp

freshly grated lemon zest

1

tsp

freshly minced garlic

a few grinds of black pepper
For the Fried Parsnips
½

lb

scrubbed whole parsnips- not peeled

1

qt

peanut or olive oil for frying

Fine sea salt for seasoning
Instructions
For the Stew
Season the beef cubes and heat the cooking fat in a large Dutch oven over medium heat until almost shimmering. Brown the beef in stages to avoid crowding the pan. Remove the beef cubes as they brown all around.

When beef is finished, add the onion and garlic to the pan and sauté until soft and a little browned.

Add the gochujang and tomato paste and stir well until the onions and garlic are well-coated. Add the flour and cook out two minutes while stirring constantly.

Add the browned beef and any collected juices back to the pot, pour in the red wine and beef stock, and stir well to evenly distribute.

Reduce heat to a simmer, add the bay leaf and cover the pot. Let cook at a low simmer for 2 ½ – 3 hours.
For the Gremolata Garnish
Simply combine all ingredients in a small bowl and set aside until ready to garnish the stew.
For the Fried Parsnips
Use a sharp vegetable peeler to peel long and thin strips of the parsnips until you have reached the woody core which you can reserve for another use.

Heat the oil in a heavy pot to 375 degrees Fahrenheit. Add the strips in 2 or 3 batches and fry until they are a golden brown and crispy- about 3 minutes. Drain the parsnips on a paper towel and season with fine sea salt.
Note that the recipe calls for stew cubes. We cut our beef stew portions from the neck, chuck, and arm. If you'd rather, you can make a stew with brisket or bone-in cuts including chuck roasts, meaty neck bones, or sliced shanks. If you were to use shanks, I'd recommend increasing the cooking time 1-2 hours to allow the collagen to fully soften.
The recipe would also work well using lamb shoulder roast.